And the MVP for November is...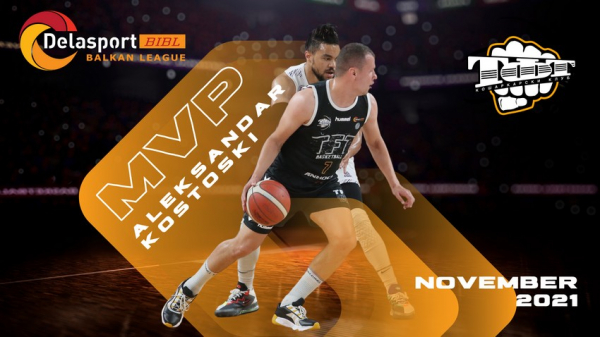 05-12-2021 | 12:23
November wasn't as busy as the other months in Delasport Balkan League due to the National teams break, but nevertheless there some good and interesting games. KK TFT was part of some of them and one player in particular stood out. His name is
Aleksandar
Kostoski
who is the MVP of Delasport Balkan League for the month of November.
Kostoski
played in all three of TFT games - a loss to Ironi Nahariya and two wins over Akademik Plovdiv and Beroe in Bulgaria. In all three of the matches the point guard did well and his best outing came against Akademik when he finished with 12 points and 9 assists for an efficiency rating of 18.
In the three games
Kostoski
averaged efficiency rating of 14.3 during the month which was good enough for him to be elected as MVP. The experienced guard had 13.3 points and 4.7 assists in the three games to lead his team to a 2-1 record.
So after
Ike Iroegbu
for the month of October, we now have another guard in
Kostoski
who was the top for the month. Now what's left for us is to see who will be the one for December.
News
Next Game
No Games Scheduled