Third straight win for Sigal Prishtina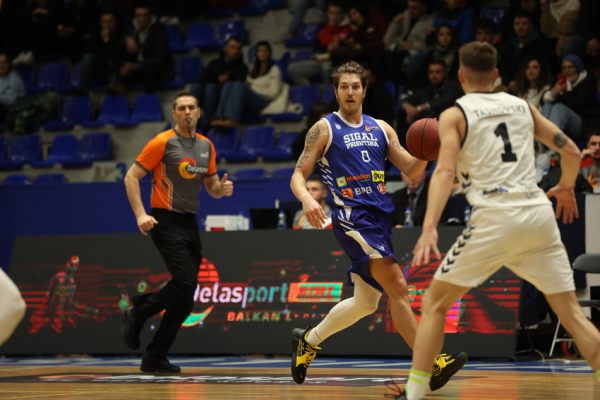 06-12-2021 | 22:05
KB Sigal Prishtina
recorded its third straight win in Group B of Delasport Balkan League. The Kosovo team hosted KK
TFT
and led from start to finish to take
80-73
victory. The hosts were always in control of the game although they just couldn't put the visitors away as they were trying to comeback. At the end of the day Sigal held on for the win and also managed to do it by more than 4 points which was the difference they lost with in Skopje in the first match between the teams. After this match
Sigal
now has 3-2 record and will next travel to Bulgaria to meet Beroe on December 20th and Akademik Plovdiv on December 22nd. This was the second loss in a row for
TFT
as the team now has 3-4 record and will host Ibar next week.
The hosts had the better start to take an early 7-2 lead. They continued to stay ahead after as TFT stayed close as that was the case for the whole first quarter which finished with the home side being up by 4. Shortly after the second period started Sigal took a double-digit advantage. In the next minutes the hosts managed to keep it around 10 points as it reached as high as 15. The visitors though finished slightly better the half and the difference at the break was 11.
In the third quarter TFT managed to close the gap to single digits but it didn't last long. The hosts answered with a 7-0 run as after they kept their advantage in that range. At the end of the first 30 minutes the lead was 13 points and in the last quarter the visitors once again cut it below 10. They were trying to get close to their opponent but missed some chances to do so and at the end of the day the hosts managed to hold on and got the win by the margin they needed.\
The home side scored 10 triples from 31 attempts which compared to just 4 of 18 for the hosts turned out to be the big difference.
Lejson Zeqiri
led the winners with a double-double of 17 points and 10 rebounds.
Jan Palokaj
had 14 points, 5 rebounds and 5 assists as
Dachon
Burke
had 10 points and 7 assists.
The visitors were led by
Landrius Horton
who finished with 19 points.
Strahil
Nikolov
did well with 16 and 7 rebounds as
Andrej
Maslinko
had 12 and 7.
BOXSCORE
News
Next Game
No Games Scheduled