Tony Mitchell cleared to play at the Final 4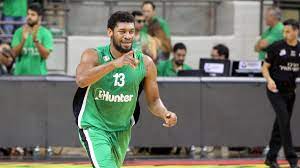 Mitchell with Maccabi's uniform during his previou
27-04-2022 | 17:38
Maccabi Next Urban Haifa will rely on one of its most notorious players for the Final 4 of Delasport Balkan League. Few weeks ago the team signed the experienced
Tony
Mitchell
but he is yet to play a game in the competition.
In order to take part in the final games of the season in Nahariya,
Mitchell
had to take a drug test. After he did it and the results came out negative, he was cleared to play and will add some firepower for Maccabi.
He returned to Maccabi precisely to play in BIBL but due to various issues wasn't able to do so until now. He will be available for the semifinal against BC Balkan on Friday and will make his debut in the competition. The American is a player with a vast experience having been selected 37th in 2013's NBA Draft by Detroit Pistons. He played 21 games with the team and then was a part of teams in the Philippines, Puerto Rico, Taiwan and others. He has already played for Maccabi Haifa back in 2016 so that will be a return for him in the team.
News
Next Game
No Games Scheduled