Shay Shtriks: Now it's time to enjoy the last four games of the season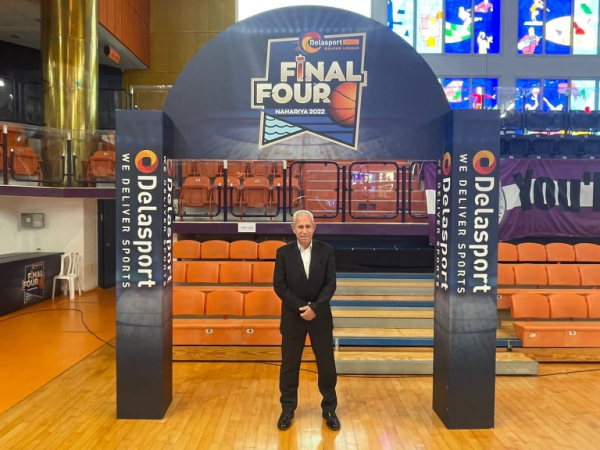 29-04-2022 | 12:31
We are few hours away from the start of Delasport Balkan League Final 4. As usual, the Sports Director of the competition - Mr. Shay Shtriks, had some words to say so check his address below:

"Season 14 is on the way to finish.
We are in the beautiful city of Nahariya, in the modern and friendly sports hall in Ein Sara - the home of Ironi Rain Nahariya where we started the season on 14.10.2021 and where we will finish it with Final Four 2022.
DelaSport Balkan League, season 2021-22, started on 12.10.2021. 84 exciting games were played in five countries. 12 teams started the season and the best four are here now to its end.
Thank you Ironi Rain Nahariya for hosting the event in the most professional and quality way.
It was again an extremely challenging season. COVID-19 stayed with us most of the time but the teams did it great, including 14 flights to Israel, travelling and crossing borders between Bulgaria- Kosovo - Montenegro- North Macedonia all of this in difficult times of COVID 19 restrictions in all the countries but we did it again.
I would like to send big thank you to all the teams, coaches, players and team members, referees, commissioners and the BIBL staff.
Without the devotion and love to the basketball game it could not never have been done.
I like to send big thank you to our main sponsor DelaSport, to Avi, Dany and Oren personally along with all the other guys who behind the stage have been supporting us, who believed that our project is a quality one and being our sponsor and friends is a fit to the philosophy and vision of the company.
I am sending thank you to all the federations and leagues that stood with us during all the season and definitely without whose strong cooperation and understanding we would not be able to finish the season in this good way.
Last but not least, thank you to all the media partners that broadcast all the season our games: Sport 5 from Israel; BTV/Ring TV from Bulgaria and Art Motion and Kujtesa from Kosovo - all of them did the best to cover and broadcast live most of BIBL games.
We are hoping to have a quality Final Four and to finish the season in the best possible way.
We already started preparations for season 2022-23 and we are going to start from the upcoming season the DelaSport Women League and for the first time ever a regular 3X3 League - the DelaSport 3X3 Balkan league.
Now it is the time to enjoy the last 4 games of season 2021-22!
And as we always say:
MAY THE BEST TEAM WIN
!"
News
Next Game
20 Dec 2022

KB Peja
KK Milenijum Kodio

| | |
| --- | --- |
| Karagaci | Referees: |
Schedule
Peje | Karagaci

20 Dec 2022
KB Peja
KK Milenijum Kodio

Prizren | Sezai Surroi

27 Dec 2022
KB Bashkimi
Hapoel Altshuler Shaham Beer Sheva/Dimona

Sofia | Universiada

28 Dec 2022
BC Levski 2014
BC Budivelnyk Kyiv

Peje | Karagaci

29 Dec 2022
KB Peja
Hapoel Altshuler Shaham Beer Sheva/Dimona

Podgorica | SKC-Univerziteta Crnegore

04 Jan 2023
KK Milenijum Kodio
BC Levski 2014

Prizren | Sezai Surroi

05 Jan 2023
KB Bashkimi
BC Levski 2014
All times are local time