Classy performance for BC Budivelnyk at Beroe for second win in Delasport Balkan League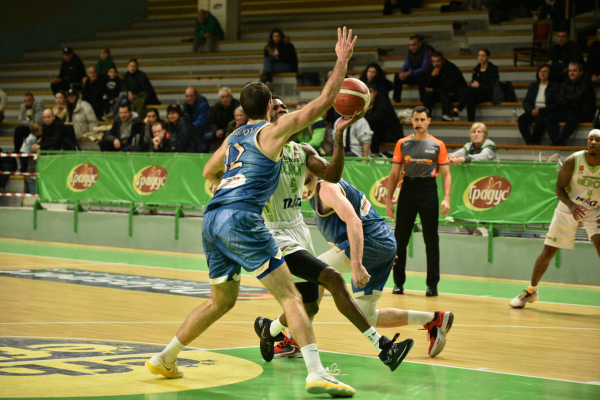 07-12-2022 | 21:07
The second win in a row for BC Budivelnyk in Delasport Balkan League came in Stara Zagora, visiting Beroe - 86-65.
For Beroe it was the second defeat in the Balkan League, but the second in a row.
Interestingly, BC Budivelnyk won its previous visit - in Prizren to Bashkimi with a similar score a couple of weeks ago.
Beroe started the match well and led throughout the first quarter, but at the end of it, they allowed a change of lead. A 10-0 run early in the second quarter provided more momentum for BC Budivelnyk, with the Ukrainian squad pulling away at the break at 42:34.
BC Budivelnyk committed just three turnovers in the first half and was winning the battle under the basket to take that lead.
The hosts lost their rhythm on offense in the third quarter, and only managed to score 10 points at the end of it. On the other hand, BC Budivelnyk had 26 in this ten in order to get comfortable in Stara Zagora.
Beroe won the last part, for his supporters, but it did not change the final result 86:65 for BC Budivelnyk.
TK Edogi scored 15 and grabbed 11 rebounds, Cornelius Hudson added 21, and Darius Hall 13.
Bogdan Blyzniuk scored 21 for the guests, Alec Brown added 15.
GAME STATS
News
Next Game
31 Jan 2023
17:00
KK Milenijum Kodio
KB Bashkimi


Bemax Arena
Referees:
Aleksandar Pavlov
Alija Ferevski
Stefan Kuburovic

Schedule
Podgorica | Bemax Arena

31 Jan 2023 17:00
KK Milenijum Kodio
KB Bashkimi

Prizren | Sezai Surroi

08 Feb 2023
KB Bashkimi
KB Peja

Podgorica | Bemax Arena

16 Feb 2023
BC Budivelnyk Kyiv
KK Milenijum Kodio

Stara Zagora | Obshtinska

20 Feb 2023
BC Beroe
KB Bashkimi

Sofia | Universiada

21 Feb 2023
BC Levski 2014
KB Bashkimi

Beer Sheva | Noam Khayim Sport Complex

21 Feb 2023
Hapoel Altshuler Shaham Beer Sheva/Dimona
KK Milenijum Kodio
All times are local time