Once again, Beroe beats the clock and Levski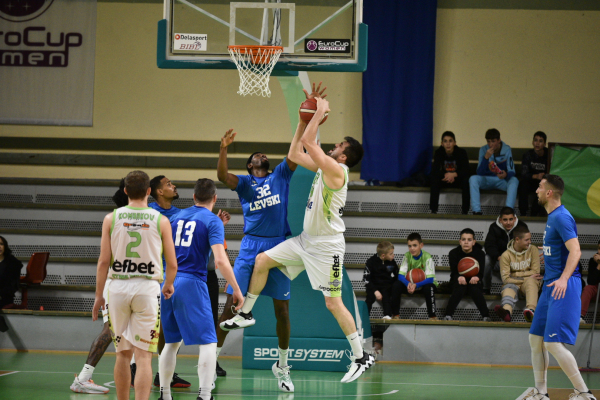 11-01-2023 | 21:56
Beroe recorded a second victory over Levski in the Balkan League, this time with
85:82
, but again in an identical way - with a triple with the buzzer.
Two months ago in Sofia, Cornelius Hudson made a similar shot in overtime for 88:85.
Now Hudson is no longer in Beroe's squad, but Darin Ivanov became the author of an equally heartbreaking three-pointer that knocked Levski down.
After a sluggish start for both teams, Levski took a double-digit lead for the first time at the end of the first quarter - 25:15.
Beroe went on a strong 9-0 run early in the second half to tie the score before the visitors pulled ahead again at the break with 44:36 to go.
In the third period, Beroe managed to catch up, but by the end of it, Levski reached the biggest difference in the match - 12 points.
Beroe again went on unanswered 8-0 run early in the final period to tie the game at 69-69.
This made the final five minutes quite exciting and tense. The hosts were also without Darius Hall because of five personal fouls, but they did not give up.
A minute before the end, after a series of mistakes by Levski Beroe used chance and achieved a complete turnaround at 77:76.
Alan Arnett hit a crucial 3-pointer to leave Levski's chances with less than 24 seconds to go before the buzzer.
Beroe used better the time and Aleksandar Todorovic scored one of two free throws. Zlatin Georgiev equalized to 82:82 with a three-pointer, but for the second time in a meeting between the two teams, a heroic three-pointer brought victory for Beroe!
Darius Hall scored 25 for the victory, Todorovic added 17, Darin Ivanov 12.
Alan Arnett scored 26 for Levski, Nikolay Mihailov recorded 11 and 11 rebounds.
FULL STATS
News
Next Game
No Games Scheduled