Hard-fought bronze for Beroe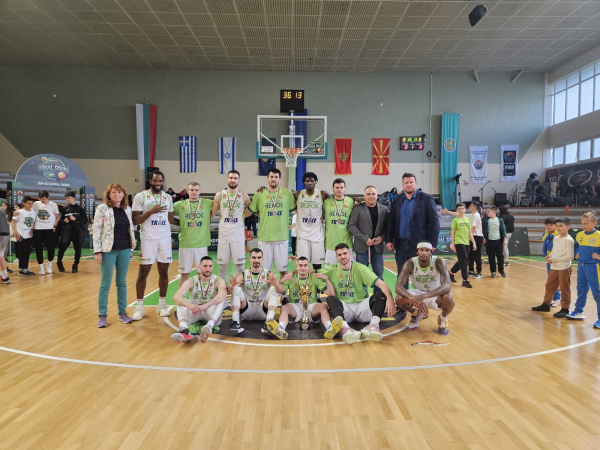 30-04-2023 | 19:15
Beroe won the bronze medals in 2022/23 edition of Delasport Balkan League after win with 100-87 against KK Milenijum Kodio.
The host of this season's Final 4 had ups and downs during the game and the Montenegrin opponent fought until the last minute, but the victory remained in Stara Zagora.
KK Milenijum arrived in Bulgaria with few main players, after finishing local league 3 weeks ago, while Beroe will continue the Bulgarian NBL in just 2 days.
The match started with high scoring and lead changes. However, Boyko Milenkov's layers took a slight advantage and after twice leading by 7, after ten minutes of play, they pulled away. Milenijum finished the quarter with not a single 2-point FG, but scored phenomenal 7 three-pointers in that part.
Beroe continued to play successfully on offense and shortly after the start of the second period pulled ahead by 12. However, Millenijum did not stop bugging its opponent from a long distance and reduced its deficit to only one point, but at the break, the advantage was again for the home team - 54-48.
The Bulgarian team again took a double-digit lead after the break, but its opponent again shortened the distance and before the last part reduced it to 5. However, the visitors were without their leading scorer by that time, Petar Ivanovic, who left for five fouls.
Three minutes after the resumption of the game, KK Milenijum equalized for 82-82, but in the meantime, two more main players of the team were sent off for fouls - Marko Rajcevic and Milos Jovanovic. Beroe took advantage and once again built up a lead which was held until the end.
Darius Hall was the key to the success with 20 points, Darin Ivanov has 16, and Alexandar Andrejevic has 13.
Milos Jovanovic scored 17 points for the opponent, Vaso Popovic and Petar Ivanovich scored 16 each.
News
Next Game
No Games Scheduled