Group G preview: BC Akademik Plovdiv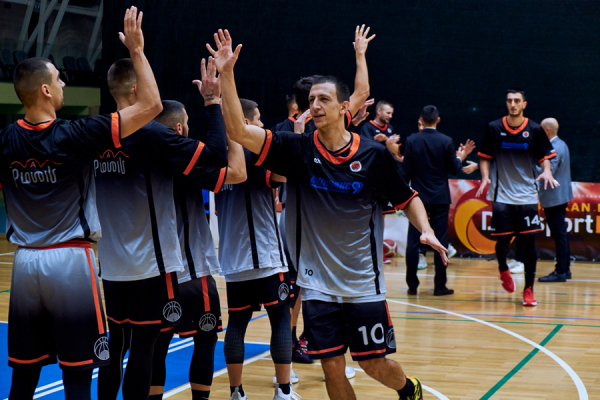 17-02-2021 | 17:17
BC Akademik Plovdiv
is one of the teams in Group G of Delasport Balkan League alongside Hapoel Holon and KK Kumanovo 2009. The Bulgarian side finished top of Group E with 8 wins and 2 losses displaying some really good performance over the course of Stage 1. Now the Plovdiv team enters the Second Stage with the ambitions to build on that success and reach the Final 4. The first game will be on March 4th when Akademik will visit Hapoel in Israel.
Akademik
cruised through Stage 1 with a very good all-around performance and playing well both on offense and defense. The only two defeats came against the opponent in Stage 2 - KK
Kumanovo
2009 and were in a middle of a streak with a lot of games. That however is without doubt something that
Akademik
will have on its mind when it meets the North Macedonians as the battle between the teams is expected to be really huge.
Perhaps
Akademik's
most impressive win was in Skopje against KK T
F
T after overtime. It came after
Akademik
was losing big at the break but then showed character and won.
Akademik
did well also in the other games beating Beroe twice by a single point and generally looking impressive in most of their outings.
With a new coaching staff in
Yordan Yankov
and
Aleksandar Gruev
, Akademik tried to show something different and the team played with a lot of passion, energy, hustle and motivation. That is what characterized them in all the matches. Of course the team is led by captain
Vasil Bachev
, who despite not averaging the most points, is without doubt the heart and the soul of Akademik. The three players under the basket really impressed in Stage 1 with
Obrad Tomic
,
Jere Vucica
and
Tony
Gugino
all averaging double figures. The same can be said for
Nikolay Nikolov
and
Nikolay Titkov
who improved their performances and are key to the team's style of play. They've also averaged over 10 points per game and with the help of
Martin
Sotirov
and newly signed
Jahii
Carson
, Akademik is able to have enough players in order to play its aggressive style. When Adriyan Sekulov returns it will also help and hopefully for the Plovdiv team, they'll be able to cap a good start to the season with a qualification for the Final Four.
By clicking on the link below, you can check the Akademik's results so far and the schedule for Stage 2. Further below you can also watch again the win over BC Beroe on January 28th, which secured the team the first place in Group E:
BC AKADEMIK PLOVDIV'S RESULTS AND SCHEDULE FOR STAGE 2
News
Next Game
12 Mar 2021
20.00LIVE
Sport 5, YouTube
KK Kumanovo 2009
Hapoel Holon B.C.

| | |
| --- | --- |
| Sports Hall Pero Nakov | Referees: |
Schedule
Kumanovo | Sports Hall Pero Nakov

12 Mar 2021 20.00
KK Kumanovo 2009
LIVE
Hapoel Holon B.C.
Sport 5, YouTube

Gan Ner | Gan Ner

16 Mar 2021
Hapoel Gilboa Galil B.C.
LIVE
KK TFT
Sport 5, YouTube

Plovdiv | Complex Sila

17 Mar 2021
BC Akademik Plovdiv
LIVE
KK Kumanovo 2009
YouTube

Gan Ner | Gan Ner

18 Mar 2021
Hapoel Gilboa Galil B.C.
LIVE
BC Beroe
Sport 5, YouTube

Holon | Toto Arena

25 Mar 2021
Hapoel Holon B.C.
LIVE
BC Akademik Plovdiv
Sport 5, YouTube

Stara Zagora | Obshtinska

31 Mar 2021
BC Beroe
LIVE
KK TFT
YouTube
All times are local time