Domestic leagues: First home win for Galil Gilboa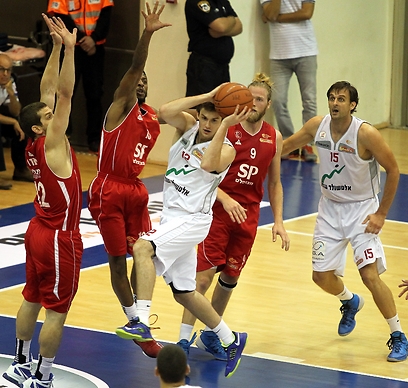 12-11-2013 | 08:50
BC Galil Gilboa
won its first home win of the season in the Israeli league. The team hosted
Hapoel Tel Aviv
and took the victory
71-64
. After 5 rounds Galil holds 10th position with 2-3 record so far.
The home team played well in the first quarter and took a 9-point lead. Then it became 10 at the halftime break but after three quarter the visitors had cut it to just 4. However in the last ten minutes Galil managed to close out the game and took the victory.
Rick Jackson
was the best player for the win with 18 points and 7 rebounds.
Gerald Robinson
had 17 points as
Amit Simchon
added 9 and 10 rebounds.
News
Next Game
27 Jan 2021
17.00LIVE
YouTube
KK Ibar Rozaje
KK Kumanovo 2009


Sportski Centar
Referees:
Dimitrios Bitis
Nikos Tziopanos
Konstantinos Xenikakis
Commissioner:
Zoran Sutulovic
Schedule
Rozaje | Sportski Centar

27 Jan 2021 17.00
KK Ibar Rozaje
LIVE
KK Kumanovo 2009
YouTube

Plovdiv | Complex Sila

28 Jan 2021 18.00
BC Akademik Plovdiv
LIVE
BC Beroe
YouTube

Kumanovo | Sports Hall Pero Nakov

02 Feb 2021 19.00
KK Kumanovo 2009
LIVE
BC Beroe
YouTube

Skopje | SC Kale

02 Feb 2021 19.30
KK TFT
LIVE
KK Ibar Rozaje
YouTube
All times are local time