It′s time for the first quarterfinal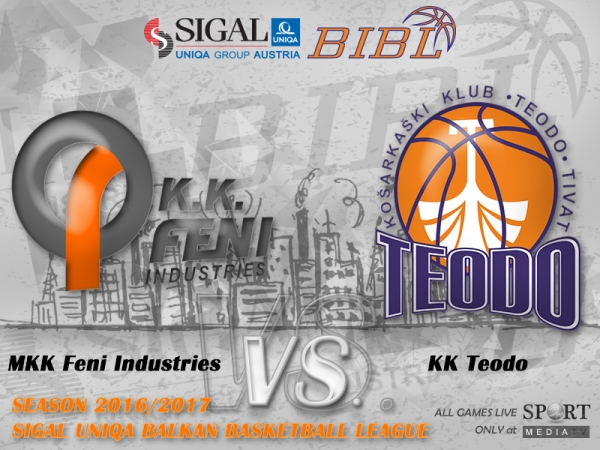 07-03-2017 | 10:05
MKK Feni Industries will host KK Teodo tonight in the first quarterfinal game of SIGAL UNIQA Balkan League. It will start at 19.00 hrs local time and will be broadcast LIVE on SportMedia.tv.
The quarterfinal series consists of two legs and at the end the overall result is counted. Of course Feni would like to try to get a good advantage at home in Kavadarci and then hope to defend it in Tivat.
Last week Feni suffered its second straight home loss in BIBL so everybody in the team would like to bounce back. The Kavadarci squad will rely a lot on Ceshkovic and Nikolovski who are the main go-to guys and will have to lead Stajikj, Djekic, Petrovski and the rest.
Teodo also lost a week ago but the team knew that it can afford a defeat. Now the times are different and the Tivat squad will try hard to get a good result. For sure Teodo will want to play tough and physical in order to be in the game. The visitors will hope to use well Marojevic under the basket but Kusovac, Stanojevic and Djurisic are also key for the team′s performance.
News
Next Game
01 Feb 2022
LIVE
Hapoel Nufar Energy Galil Elion
BC Levski 2014
Schedule
Kfar Blum | Sports Hall

01 Feb 2022
Hapoel Nufar Energy Galil Elion
LIVE
BC Levski 2014

Haifa | Romema Arena

03 Feb 2022
Maccabi Next Urban Haifa
LIVE
BC Levski 2014

Skopje | SC Kale

09 Feb 2022 19.00
KK TFT
LIVE
BC Beroe
YouTube

Nahariya | Ein Sara

10 Feb 2022
Ironi Rain Nahariya
LIVE
KK Ibar Rozaje

Nahariya | Ein Sara

15 Feb 2022
Ironi Rain Nahariya
LIVE
KB Sigal Prishtina
Artmotion, Sport 5, YouTube
All times are local time