Teodo hosting Feni in a battle for the semifinal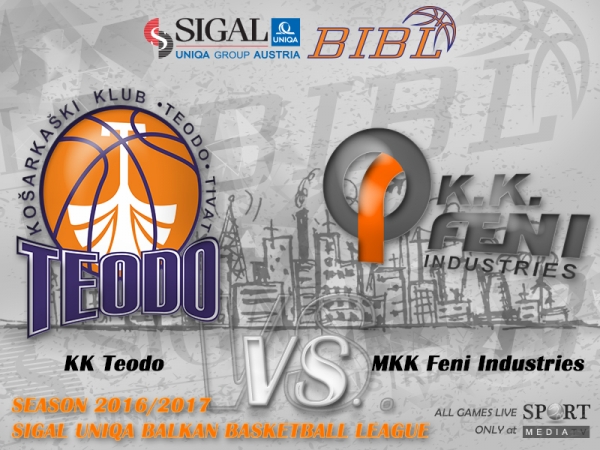 14-03-2017 | 10:24
KK Teodo will host MKK Feni Industries tonight in a second quarterfinal game. The teams will play in Tivat at 18.30 hrs local time and the match will be broadcast LIVE on SportMedia.tv.
Feni is carrying 3-point lead in to this match from the first one at home a week ago. This means that the series is really close and we are in for an intense battle.
Teodo finished great a week ago and is in a really good position. The Tivat team closed a big gap and needs to win by 4 points at home to advance. The hosts will again rely on a hard phisycal play and on the likes of Djurisic, Vucurovic and the good form of Stanojevic and Popovic.
On the other side Feni comes to the game with a slight advantage which the players know could of been higher. However the team is well rested and eager to prove itself tonight. Ceshkovic, Nikolovski and Dzekic will play an important role and will hope to lead the others to qualification to the semifinal.
News
Next Game
01 Feb 2022
LIVE
Hapoel Nufar Energy Galil Elion
BC Levski 2014
Schedule
Kfar Blum | Sports Hall

01 Feb 2022
Hapoel Nufar Energy Galil Elion
LIVE
BC Levski 2014

Haifa | Romema Arena

03 Feb 2022
Maccabi Next Urban Haifa
LIVE
BC Levski 2014

Skopje | SC Kale

09 Feb 2022 19.00
KK TFT
LIVE
BC Beroe
YouTube

Nahariya | Ein Sara

10 Feb 2022
Ironi Rain Nahariya
LIVE
KK Ibar Rozaje

Nahariya | Ein Sara

15 Feb 2022
Ironi Rain Nahariya
LIVE
KB Sigal Prishtina
Artmotion, Sport 5, YouTube
All times are local time