Ibar overcomes a bad start to win in Rahoveci and move up to third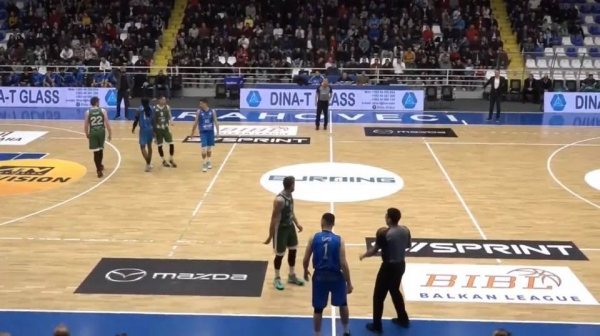 26-02-2020 | 21:57
KK Ibar is now in third place in the BIBL standings after winning a very important game away against KB Rahoveci. The visitors from Rozaje won 80-69 despite starting slowly and letting the hosts score the first 8 points. A great third quarter however proved to be the big difference tonight as the visitors turned the game around in those ten minutes and then kept their cool in the decisive minutes. With that result Ibar now has 4-5 record while Rahoveci is at 3-6 with three games to go. Next week the Montenegrins will host Vllaznia while Rahoveci will travel to Peja for the Kosovo derby.
The hosts opened up the game by scoring the first 8 points and at times they even had a double-digit lead in the first quarter. Ibar however ended it on an 8-1 run to close the gap to just 3 and even took the lead twice in the second. The home side did finish better the half but still had just 7-point edge and the game was really open.
Thanks to an 8-2 start to the second half the visitors closed the gap to just a point. A bit later they completed the comeback as Ibar not only took the lead but thanks to a 6-0 end to the third quarter, went up by 7. Rahoveci of course tried to overcome the deficit and cut it to 1 just before the middle of the final period. In the next two minutes both teams didn′t score and the first one to break that run were the visitors. Cekic scored two baskets in a row and they were part of a 10-0 run which decided the outcome.
The visitors were led by Nemanja Simovic who had 22 points and 8 rebounds. Marko Ljujic had a double-double with 17 points and 10 rebounds as Armin Kalic added 14 and 7.
Aron Nwankwo also had a double-double finishing with 17 points and 14 rebounds for the home team. Raheem Johnson had 16 points as Joshua McFolley added 11 points.
News
Next Game
01 Feb 2022
LIVE
Hapoel Nufar Energy Galil Elion
BC Levski 2014
Schedule
Kfar Blum | Sports Hall

01 Feb 2022
Hapoel Nufar Energy Galil Elion
LIVE
BC Levski 2014

Haifa | Romema Arena

03 Feb 2022
Maccabi Next Urban Haifa
LIVE
BC Levski 2014

Skopje | SC Kale

09 Feb 2022 19.00
KK TFT
LIVE
BC Beroe
YouTube

Nahariya | Ein Sara

10 Feb 2022
Ironi Rain Nahariya
LIVE
KK Ibar Rozaje

Nahariya | Ein Sara

15 Feb 2022
Ironi Rain Nahariya
LIVE
KB Sigal Prishtina
Artmotion, Sport 5, YouTube
All times are local time