Domestic leagues: Academic Plovdiv scores 16 triples to start the season strong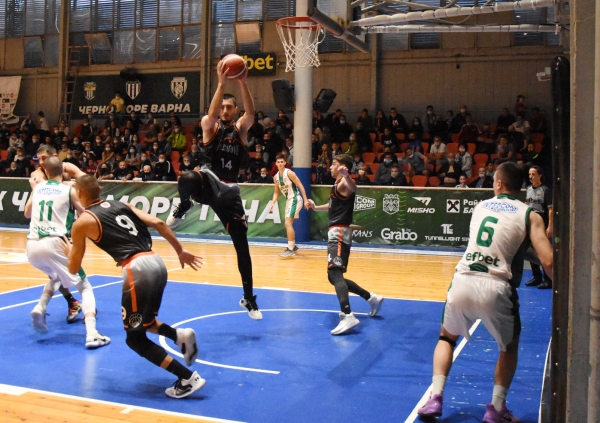 (NBL)
11-10-2020 | 14:49
BC Academic Plovdiv started the new season in a very good way by beating Cherno more 97-82 away from home. It was also a debut for the new head coach Yordan Yankov and it was more than successful one.
The visitors led for the whole game thanks to their great shooting. In total they scored 16 three-pointers from 33 attempts which proved too much for the home team.
Academic managed to pull away by 10 thanks to a 9-0 run in the second quarter. After that they were in front but the hosts were always close. With three minutes to go the difference went up to 12 points after another triple and at that point the game was decided.
Vasil Bachev and Anthony Gugino were the top scorers for the winners with 20 points each as Obrad Tomic had 11 and 9 rebounds.
News
Next Game
02 Dec 2020
17.00
YouTube
KK Ibar Rozaje
KK TFT


Sportski Centar
Referees:
Xhelal Mumini
Dardan Maxhuni
Elldin Uglari
Commissioner:
Faton Kurshumlija
Schedule
Rozaje | Sportski Centar

02 Dec 2020 17.00
KK Ibar Rozaje
KK TFT
YouTube

Stara Zagora | Obshtinska

02 Dec 2020 18.30
BC Beroe
KK Teodo
YouTube

Plovdiv | Complex Sila

03 Dec 2020 18.00
BC Akademik Plovdiv
KK Teodo
YouTube

Stara Zagora | Obshtinska

08 Dec 2020
BC Beroe
KK Ibar Rozaje
YouTube

Kumanovo | Sports Hall Pero Nakov

09 Dec 2020
KK Kumanovo 2009
KK Teodo
YouTube

Beer Sheva | The Shell Arena

09 Dec 2020 19.30
Hapoel Altshuler Shaham Be′er Sheva B.C.
LIVE
Hapoel Bank Yahav Jerusalem
Sport 5, YouTube
All times are local time