Hapoel Jerusalem survives an overtime thriller in Rishon LeZion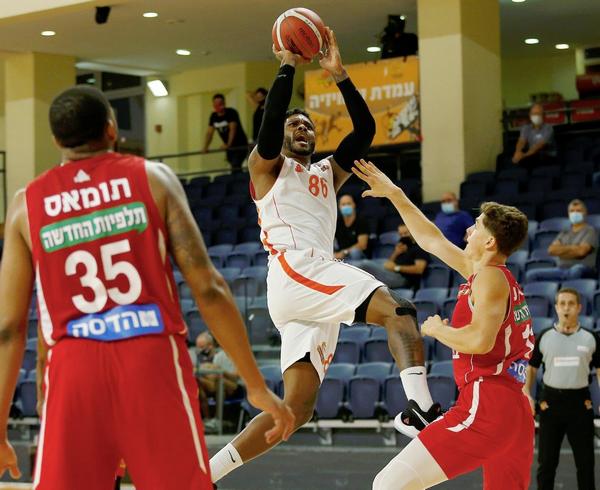 13-10-2020 | 22:08
Without doubt the best game of the opening night in Delasport Balkan League happened in Rishon LeZion where Hapoel Bank Yahav Jerusalem managed to overcome the hosts Maccabi. In a tense battle the visitors managed to come away with an 103-96 win in an overtime thriller. Both teams had the chance to win the game in the final seconds of the regulation but none did it. In the extra five minutes the visitors were superior and closed out victorious. In the next round on Saturday Maccabi will visit Hapoel Be′er Sheva while five days later Be′er Sheva will play in Jerusalem.
Thanks to a high scoring first quarter Maccabi managed to take an 8-point advantage. Hapoel however was close all the time and by winning the next two quarters the score was tied. The battle continued in the final period but at one point the hosts seemed to have the momentum when they went up by 7 with three minutes to play. The visitors answered with a run of their own to close the gap to just 2 in the final minute and when Maccabi missed again, Malcolm Hill scored a triple to put Hapoel up by 1 with 7.7 seconds to play, The hosts finally ended their scoring drought after a good inbounds play found Mitchell under the basket who put them back ahead with 6.0 on the clock. Immediately after the visitors had another chance to win as Phillip was fouled but after he made just the first free throw and Taylor missed on the other side, the game went to overtime.
In the extra period Hapoel managed to pull away thanks to a 10-2 run which put the team up by 7. The hosts answered with a triple but then made two turnovers in two straight possessions and there chances ended.
Malcolm Hill was the top scorer for the winners with 22 points. Tarik Phillip also did well by adding 21 and 5 assists as Tashawn Thomas had 15 points and 13 rebounds for a double-double.
Isaiah Taylor led all scorers in the game with 27 points as Golan Gutt also played well scoring 21. A monster double-double by Akil Mitchell - 18 points and 19 rebounds was not enough for the home team.
News
Next Game
No Games Scheduled