Quotes after the game Hapoel Gilboa Galil - Maccabi Haifa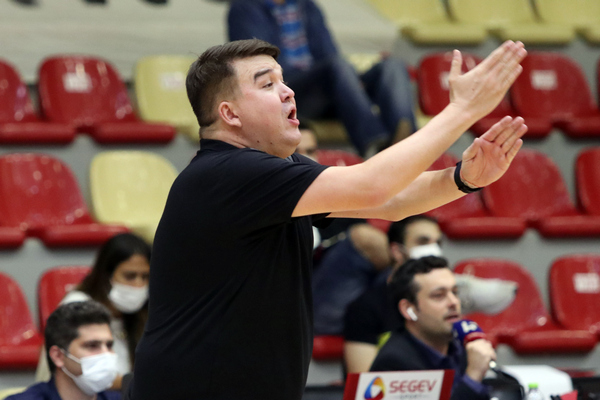 Coach Seoane has work to do with Maccabi
14-10-2020 | 09:49
Hapoel Gilboa Galil had a winning return in the Delasport Balkan League after beating Maccabi Haifa at home in the first round. Here are some quotes at the end of the contest:
Lior Lubin, head coach of Hapoel Gilboa Galil: "First of all I′m very happy that we won the game. We started with good energy. We know the Balkan League from few years ago when he had the privilege to take part in it. Now we are happy to be part of it again as I think it helps the Israeli basketball. I think we can get more experience in another competition so we are very proud to be playing in the Balkan League. We are happy to start the season with this win, with this kind of energy and hopefully we′ll keep playing this way."
Joseph Thomasson, player of Hapoel Gilboa Galil: "It was a fun game, an exciting one. I think we have a lot of learning to do in executing our things the right way but it felt really good to be back on the court. I′m always grateful when I win no matter how pretty it is. It′s important to get the job done. I enjoyed the game. Like I said, we have work to do and I look forward to the rest of the season."
Daniel Seoane, head coach of Maccabi Haifa: "I believe we were not good enough in many aspects of the game. We didn′t play good defense and it was visible that we hadn′t played in 3-4 weeks. We didn′t read fast enough and good enough, the timing was the main problem. Our next game in on Saturday and I′m sure we′ll be better against Ironi Nahariya."
Chris Dowe, player of Maccabi Haifa: "During the game I felt that we were able to comeback but each time we cut their lead, we made mistakes and they were restoring their double-digit advantage. Although we fought until the end, it wasn′t enough." ome quotes after the end of the contest:
News
Next Game
02 Dec 2020
17.00LIVE
YouTube
KK Ibar Rozaje
KK TFT


Sportski Centar
Referees:
Xhelal Mumini
Dardan Maxhuni
Elldin Uglari
Commissioner:
Faton Kurshumlija
Schedule
Rozaje | Sportski Centar

02 Dec 2020 17.00
KK Ibar Rozaje
LIVE
KK TFT
YouTube

Stara Zagora | Obshtinska

02 Dec 2020 18.30
BC Beroe
LIVE
KK Teodo
YouTube

Plovdiv | Complex Sila

03 Dec 2020 18.00
BC Akademik Plovdiv
LIVE
KK Teodo
YouTube

Stara Zagora | Obshtinska

08 Dec 2020
BC Beroe
LIVE
KK Ibar Rozaje
YouTube

Kumanovo | Sports Hall Pero Nakov

09 Dec 2020
KK Kumanovo 2009
LIVE
KK Teodo
YouTube

Beer Sheva | The Shell Arena

09 Dec 2020 19.30
Hapoel Altshuler Shaham Be′er Sheva B.C.
LIVE
Hapoel Bank Yahav Jerusalem
Sport 5, YouTube
All times are local time