Akademik wins a thriller in Stara Zagora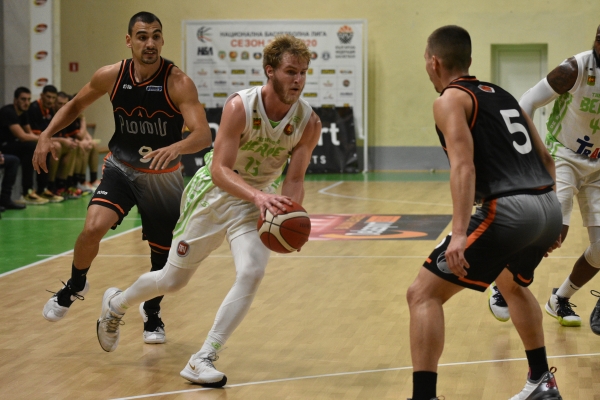 21-10-2020 | 20:27
In the battle of the two Bulgarian teams, BC Akademik Plovdiv managed to come out on top over BC Beroe. Away in Stara Zagora the Plovdiv side managed to win a thrilling game 86-85 and this way started the new season in Delasport Balkan League in a great way.
Everything was decided in the final minute as before that the team exchanged good moments. Akademik led by 9 at the break and by 6 after 30 minutes and the visitors entered the final minute leading by 5 points. Beroe managed to not only cut the deficit but when Kaleb Bishop was fouled shooting a triple with 9 seconds to play, he made all of his free throws to put his team up by 1. Then the visitors had a chance and with 2.2 to go Sekulov was fouled. He also made his free throws and as Beroe made a mistake, the visitors celebrated the win.
Jere Vucica was the top scorer for the winners with 22 points. Anthony Gugino also did well with 15 points and 8 rebounds as Vasil Bachev scored 14.
The hosts were led by Nikolay Stoyanov with 19 points and 7 rebounds as Raquan Mitchell had 18 points.
News
Next Game
27 Jan 2021
17.00LIVE
YouTube
KK Ibar Rozaje
KK Kumanovo 2009


Sportski Centar
Referees:
Dimitrios Bitis
Nikos Tziopanos
Konstantinos Xenikakis
Commissioner:
Zoran Sutulovic
Schedule
Rozaje | Sportski Centar

27 Jan 2021 17.00
KK Ibar Rozaje
LIVE
KK Kumanovo 2009
YouTube

Plovdiv | Complex Sila

28 Jan 2021 18.00
BC Akademik Plovdiv
LIVE
BC Beroe
YouTube

Kumanovo | Sports Hall Pero Nakov

02 Feb 2021 19.00
KK Kumanovo 2009
LIVE
BC Beroe
YouTube

Skopje | SC Kale

02 Feb 2021 19.30
KK TFT
LIVE
KK Ibar Rozaje
YouTube
All times are local time