Quotes after the game BC Beroe - BC Akademik Plovdiv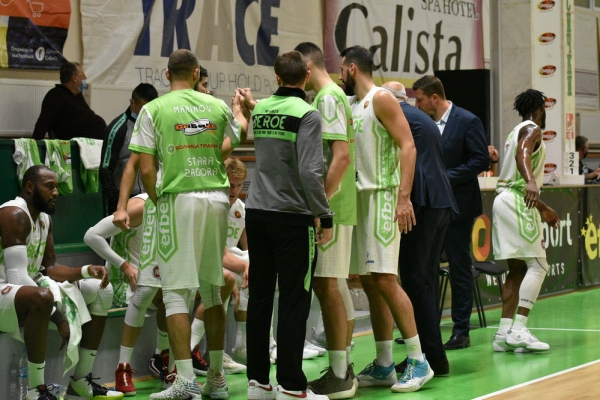 22-10-2020 | 00:03
BC Akademik Plovdiv won a thrilling game away in Stara Zagora after downing the hosts BC Beroe by a point. Here is what some of the main figures in the match had to say after it was over:
Lubomir Minchev, head coach of BC Beroe: "We can say a lot of things about this game. There are many reasons to explain the dramatic loss against Akademik. It was obvious in the first minutes that we lacked freshness. We have some problems with injuries to our players and that makes things more difficult. There is no excuse. I had to make some noise at the half time to change my team's performance. Unfortunately we missed too much easy baskets. We lack experience and this was obvious at the end of the game. I know we are green now. These matches of the Balkan League will help us in the future."
Simeon Iliev, player of BC Beroe: "It wasn't the right way of playing basketball in the first part. On the other hand Akademik played very hard. We changed our performance at halftime. I think we played much better through the second half. We need more experience. I hope that we will perform better and better."
Yordan Yankov, head coach of BC Akademik Plovdiv: "I think that both teams could have won the match. Until the last seconds, the winner was unknown. The game was very interesting. They dominated us in the rebounds. There is a good mood in my team and that's why we won."
Nikolay Nikolov, player of BC Akademik Plovdiv: "We started a little hesitant, but then we resisted. In the second half we showed aggression and won. We are happy with ourselves. We beat a strong team."
News
Next Game
02 Dec 2020
17.00
YouTube
KK Ibar Rozaje
KK TFT


Sportski Centar
Referees:
Xhelal Mumini
Dardan Maxhuni
Elldin Uglari
Commissioner:
Faton Kurshumlija
Schedule
Rozaje | Sportski Centar

02 Dec 2020 17.00
KK Ibar Rozaje
KK TFT
YouTube

Stara Zagora | Obshtinska

02 Dec 2020 18.30
BC Beroe
KK Teodo
YouTube

Plovdiv | Complex Sila

03 Dec 2020 18.00
BC Akademik Plovdiv
KK Teodo
YouTube

Stara Zagora | Obshtinska

08 Dec 2020
BC Beroe
KK Ibar Rozaje
YouTube

Kumanovo | Sports Hall Pero Nakov

09 Dec 2020
KK Kumanovo 2009
KK Teodo
YouTube

Beer Sheva | The Shell Arena

09 Dec 2020 19.30
Hapoel Altshuler Shaham Be′er Sheva B.C.
LIVE
Hapoel Bank Yahav Jerusalem
Sport 5, YouTube
All times are local time