Stefanos Dedas: I hope that our fans are happy with our mentality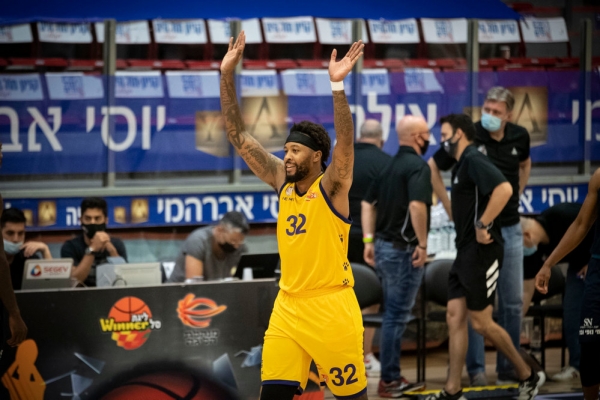 Miles had a great shooting night
22-10-2020 | 00:16
Hapoel Holon recorded its second straight win in Group C of Delasport Balkan League and is now top of the standings. Here are some quotes once the game with Hapoel Yossi Avrahami Eilat was over:
Stefanos Dedas, head coach of Hapoel Holon: "Every game is important to us when we represent Holon. For 35 minutes we dominated the game. The injury of Yogev Ohayon took us out of our plan for a while but we corrected everything in the locker room at the break. As all of our fans know, my philosophy is to have a new leader show up depending on the game, which makes the opponent′s task to prepare a lot tougher. I′m happy with how we prepared against all the types of defense that they used. This win belongs to my assistant Amit for the wonderful job he made. I hope that our fans are happy with the team′s mentality and we′ll try to continue like this."
The best player on the court was without doubt Isaiah Miles who made 7 triples on his way to 24 points. Here is what he had to say: "There was a great team atmosphere. We were a bit slow at the beginning of the game but at halftime we bonded together and picked up our intensity. We did that not only on offense but on defense as well."
News
Next Game
20 Jan 2021
19.00LIVE
Sport 5, YouTube
Maccabi Rishon LeZion
Hapoel Gilboa Galil B.C.


Beit Maccabi
Referees:
Dan Yalon
Guy Shmueli
David Izmirli

Schedule
Rishon LeZion | Beit Maccabi

20 Jan 2021 19.00
Maccabi Rishon LeZion
LIVE
Hapoel Gilboa Galil B.C.
Sport 5, YouTube

Plovdiv | Complex Sila

21 Jan 2021 18.00
BC Akademik Plovdiv
LIVE
KK Ibar Rozaje
YouTube

Tivat | S.C. Zupa

26 Jan 2021
KK Teodo
LIVE
KK Kumanovo 2009
YouTube

Rozaje | Sportski Centar

27 Jan 2021 17.00
KK Ibar Rozaje
LIVE
KK Kumanovo 2009
YouTube

Plovdiv | Complex Sila

28 Jan 2021 18.00
BC Akademik Plovdiv
LIVE
BC Beroe
YouTube

Kumanovo | Sports Hall Pero Nakov

02 Feb 2021 19.00
KK Kumanovo 2009
LIVE
BC Beroe
YouTube
All times are local time