Hapoel Haifa is back in the hunt for first place after winning in Tel Aviv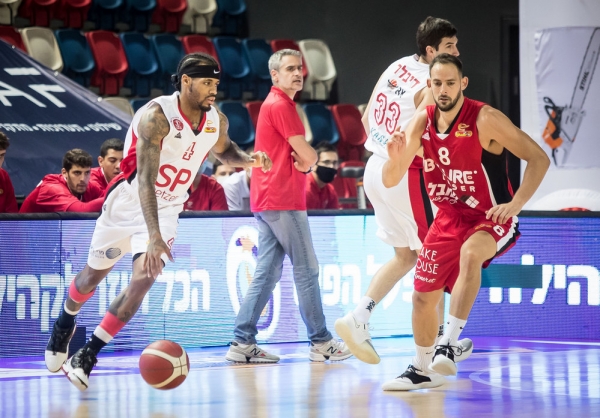 22-10-2020 | 22:26
We have three teams tied with 1-1 record in Group A of Delasport Balkan League. In Tel Aviv Hapoel B-Cure Laser Haifa put a much better performance than in Round 1 and managed to defeat Hapoel Tel Aviv 94-90. It was a very well fought game from start to finish but in the final quarter the visiting side played tougher and scored when it mattered to come out with the win. That means that those teams, together with Bnei Herzliya are all tied in the standings and the battle for the first place will continue.
It was a fairly even first half as no team could get a big advantage. Near the end of the first quarter the hosts made an 8-2 run to go up by 5 but then Haifa cut the deficit to 3 and let for most of the second. Until the break both teams continued exchanging points and after 20 minutes the visitors were up by 2.
The teams exchanged points early in the second half but then the visitors made a 9-0 run to go up by 10 points. The hosts however managed to answer and until the end of the third quarter they answered with 11-2 run to cut the deficit to just a point. In the fourth quarter the visitors scored 5 points in a row to break a tied game and soon they went up by 6. Thanks to a Bar Timor triple with 1.13 to play, the hosts managed to cut the deficit to just 3 but Siggers answered right back with a great lay-in. In the next offense the hosts missed their shot attempt and Haifa managed to hold in the final seconds and celebrated the win.
Six players scored in double figures for the winners as Keenan Evans finished with game-high 18 points while also having 7 assists. Igor Nesterenko also did well with 16 points as Jason Siggers had 15 points.
The hosts were led by Reggie Upshaw with 18 points and 12 rebounds while Bar Timor and Walter Lemon had 16 points apiece.
News
Next Game
07 Dec 2021
19.00LIVE
YouTube
BC Beroe
KK Ibar Rozaje


Obshtinska
Referees:
Aleksandar Pavlov
Alija Ferevski
Ivan Mijalkovski
Commissioner:
Georgi Valchev
Schedule
Stara Zagora | Obshtinska

07 Dec 2021 19.00
BC Beroe
LIVE
KK Ibar Rozaje
YouTube

Botevgrad | Arena Botevgrad

08 Dec 2021 18.00
BC Balkan
LIVE
KK Navico Akademija FMP
YouTube

Plovdiv | Complex Sila

09 Dec 2021 18.00
BC Akademik Plovdiv
LIVE
KK Ibar Rozaje
YouTube

Stara Zagora | Obshtinska

13 Dec 2021 19.00
BC Beroe
LIVE
Ironi Rain Nahariya
Sport 5, RING Tv, YouTube

Skopjie | Nezavisna Makedonija

14 Dec 2021
KK Navico Akademija FMP
LIVE
BC Levski 2014

Skopje | SC Kale

15 Dec 2021
KK TFT
LIVE
KK Ibar Rozaje
YouTube
All times are local time