Quotes after the game Hapoel Bank Yahav Jerusalem - Hapoel Altshuler Shaham Be′er Sheva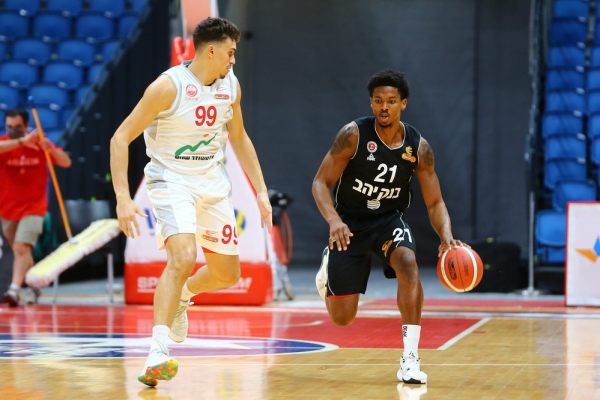 Malcolm Hill
23-10-2020 | 00:33
Hapoel Bank Yahav Jerusalem managed to get its second win in a row in Delasport Balkan League. The team defeated Hapoel Altshuler Shaham Be′er Sheva and is in first place in Group D. Here are some quotes once the game was over:
Oded Katash, head coach of Hapoel Bank Yahav Jerusalem: "It was essential for us to win because of the fact we were missing some key players. We were short of players and we didn′t keep the intensity for 40 minutes. However we still managed to find a way to be more organized offensively in the second half and got some crucial stops defensively."
Malcolm Hill, player of Hapoel Bank Yahav Jerusalem: "We started strong, and then in the second quarter, we got away from our game plan and how we were supposed to play. Then in the second half, we started ok, we made the adjustments that the coach made for us, and in the fourth quarter, we played a little bit more aggressive. I think Su (Suleiman Braimoh) was responsible for a lot of extra possessions. He was a crucial piece in the game."
Rami Hadar, head coach of Hapoel Altshuler Shaham Be′er Sheva: "In this game we saw an improvement in a number of things but we still have a lot of work to do. This is especially in the level of execution and aggressiveness."
Eric Griffin, player of Hapoel Altshuler Shaham Be′er Sheva: "This was a tough loss but we have a quick turn around and we got to get this taste out of our mouth real quick and step up for the next game. We just have to come back and prepare well for the next match."
News
Next Game
07 Dec 2021
19.00LIVE
YouTube
BC Beroe
KK Ibar Rozaje


Obshtinska
Referees:
Aleksandar Pavlov
Alija Ferevski
Ivan Mijalkovski
Commissioner:
Georgi Valchev
Schedule
Stara Zagora | Obshtinska

07 Dec 2021 19.00
BC Beroe
LIVE
KK Ibar Rozaje
YouTube

Botevgrad | Arena Botevgrad

08 Dec 2021 18.00
BC Balkan
LIVE
KK Navico Akademija FMP
YouTube

Plovdiv | Complex Sila

09 Dec 2021 18.00
BC Akademik Plovdiv
LIVE
KK Ibar Rozaje
YouTube

Stara Zagora | Obshtinska

13 Dec 2021 19.00
BC Beroe
LIVE
Ironi Rain Nahariya
Sport 5, RING Tv, YouTube

Skopjie | Nezavisna Makedonija

14 Dec 2021
KK Navico Akademija FMP
LIVE
BC Levski 2014

Skopje | SC Kale

15 Dec 2021
KK TFT
LIVE
KK Ibar Rozaje
YouTube
All times are local time