Hapoel Tel Aviv takes the top spot after holding off Bnei Herzliya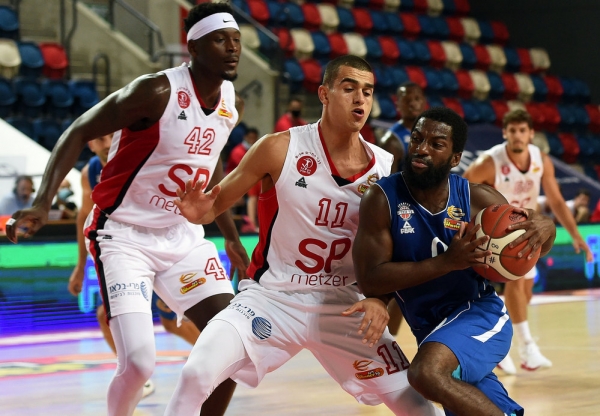 25-10-2020 | 21:25
Hapoel SP Tel Aviv has moved to the first position in Group A of Delasport Balkan League. The team managed to defeat Bnei Herzliya 77-67 at home and thus now has 2-1 record compared to 1-2 for the visiting side. It was also the first time in the group when a team hosting the game won it in the fourth try. Hapoel also took advantage over their opponent in their head-to-head as won for second time in a row.
It was a slow start for both teams before a 6-0 run gave the hosts a 7-point edge. In the final few minutes of the first quarter they managed to keep their good advantage and in the second to control it. The lead quickly went in to double-digits as three teams it reached 12 points. Bnei however was trying to stay close and at the break the difference was again 8.
Just before the middle of the third quarter the hosts moved up by 14. They controlled the difference after that and managed to keep it around 10 points. The visitors however weren′t giving up and after the middle of the fourth quarter cut the deficit to just 4. Later it went down to three but Hapoel answered with an 8-1 run to finish off the game and got the victory.
The biggest difference between the two teams was the three-point shooting. The hosts hit 12 out of 28 attempts while the visitors were just 4 of 16.
Reggie Upshaw was the top performer for the winners with 15 points and 9 rebounds while Yam Madar also had 15 points and dished out 9 assists. Walter Lemon was the other player in double figures after scoring 13 points.
The visitors were led by Kendall Anthony and Jakim Donaldson (10 rebounds) who scored 15 points apiece.
News
Next Game
No Games Scheduled