Kumanovo holds off TFT to return with a win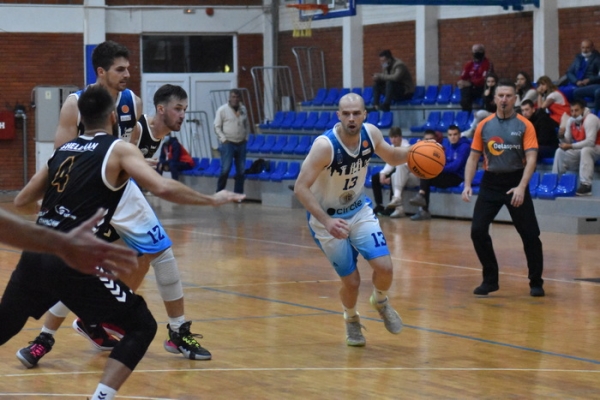 27-10-2020 | 22:13
KK Kumanovo 2009 had a winning return to Delasport Balkan League. The team hosted the debutant KK TFT and after a tightly contested second half, managed to come out with a 90-83 win. Both sides offered an intriguing match especially after the break and it had to be decided in the final minute.
The hosts got off to a better start and took an early 10-3 lead. Although TFT managed to cut some of the deficit it was once again increased to 17-8 while after ten minutes the difference was just 6 points. In the second quarter the home side continued to control the difference which was around 10. It went to double-digits as it reached 14 points few times. Just before the buzzer for the end of the first half sounded though, the visitors scored to cut it to 12 after 20 minutes of play.
With the first offense in the second half the margin went to 15 points. Soon after that though the visitors improved and started coming back. Thanks to a 16-4 run they cut the deficit to just 3 and shortly after it went down to 1. Until the third quarter finished the hosts were still up but at the end of it the margin was 3 and everything was to be decided in the final period. With 7.41 to go in the game TFT finally managed to tie the score and then the teams exchanged baskets. After the middle of the last quarter and after few misses though, the hosts made an 8-2 run which put them up by 6. With 41 seconds to play and the difference 4 points, the visitors had a great chance to tie again but first they scored just one free throw and then their offense was not successful. In the final seconds of the game the hosts managed to hold on as TFT once again missed their offense and Kumanovo celebrated a win to start the season.
Damjan Robev led the winners with 15 points as six player scored in double figures. Gorjan Markovski finished with 12 and 6 rebounds as Aleksandar Andrejevic had 11 points and 12 rebounds for a double-double.
Lachlan Anderson came out as the top scorer in the game with 20 points. Tyron Harris added 17, 5 rebounds and 4 assists as Ivan Sapundjiev had 16 points.
News
Next Game
08 Dec 2020
19.00
YouTube
BC Beroe
KK TFT


Obshtinska
Referees:
Ognjen Jokic
Aleksandar Pavlov
Daut Mehmeti

Schedule
Stara Zagora | Obshtinska

08 Dec 2020 19.00
BC Beroe
KK TFT
YouTube

Kumanovo | Sports Hall Pero Nakov

09 Dec 2020 19.00
KK Kumanovo 2009
LIVE
KK Teodo
YouTube

Beer Sheva | The Shell Arena

09 Dec 2020 19.30
Hapoel Altshuler Shaham Be′er Sheva B.C.
LIVE
Hapoel Bank Yahav Jerusalem
Sport 5, YouTube

Plovdiv | Complex Sila

10 Dec 2020 18.00
BC Akademik Plovdiv
KK TFT
YouTube

Skopje | SC Kale

17 Dec 2020
KK TFT
BC Akademik Plovdiv
YouTube

Kumanovo | Sports Hall Pero Nakov

18 Dec 2020
KK Kumanovo 2009
BC Akademik Plovdiv
YouTube
All times are local time