Great second half helps Teodo get revenge off Ibar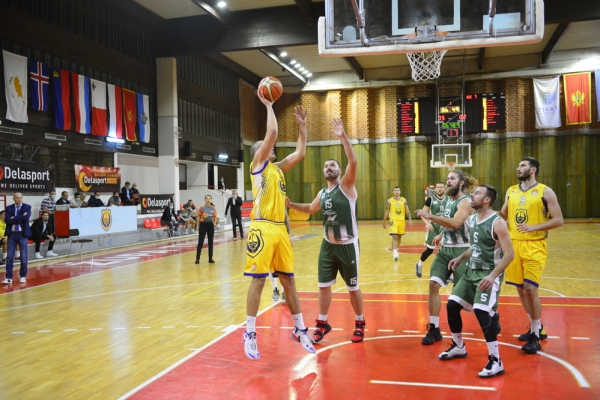 28-10-2020 | 20:31
KK Teodo managed to win its first game in Delasport Balkan League this season. The Tivat team hosted KK Ibar and managed to win 85-72 thanks to a great second half. The hosts were losing by 11 after 20 minutes but were a completelly different team after and took a big win. What was also important was the difference and after having lost by 6 in Rozaje, now Teodo holds the tie-breaker advantage.
Teodo had a great start to the game taking a 10-2 lead but that was the best thing the team did in the first half. Ibar answered back and managed to close the gap quickly and after the points were exchanged, after 10 minutes the hosts led by just 1. The turning points came shortly after the start of the second quarter. The visitors had a run of 13 straight points which put them up by 9 and they managed to keep their lead after that. It went as high as 15 points two minutes before the berak but thanks to a triple at the buzzer the hosts cut it 11.
Teodo came out a different team in the second half and with a 20-5 start in the first five minutes, managed to take the lead once again. Ibar finally responded and managed to catch up with the hosts but a 9-2 run put the hosts up by 6. They missed a chance to increase the lead and just before the buzzer for the end of the third quarter, Felec scored a triple to cut it to 3. A 7-0 start to the final quarter took the hosts′ advantage to 10 points and although Ibar managed to answer to a few baskets, with 04.01 minutes play, it went to 14 and the winner was practically decided. In the final moments of the game the hosts tried to keep the difference over 7 points and they did it.
News
Next Game
26 Jan 2021
18.00LIVE
YouTube
KK Teodo
KK Kumanovo 2009


S.C. Zupa
Referees:
Dimitrios Bitis
Nikos Tziopanos
Konstantinos Xenikakis
Commissioner:
Zoran Sutulovic
Schedule
Tivat | S.C. Zupa

26 Jan 2021 18.00
KK Teodo
LIVE
KK Kumanovo 2009
YouTube

Rozaje | Sportski Centar

27 Jan 2021 17.00
KK Ibar Rozaje
LIVE
KK Kumanovo 2009
YouTube

Plovdiv | Complex Sila

28 Jan 2021 18.00
BC Akademik Plovdiv
LIVE
BC Beroe
YouTube

Kumanovo | Sports Hall Pero Nakov

02 Feb 2021 19.00
KK Kumanovo 2009
LIVE
BC Beroe
YouTube

Skopje | SC Kale

02 Feb 2021 19.30
KK TFT
LIVE
KK Ibar Rozaje
YouTube
All times are local time