The Delasport Balkan League MVP of October is...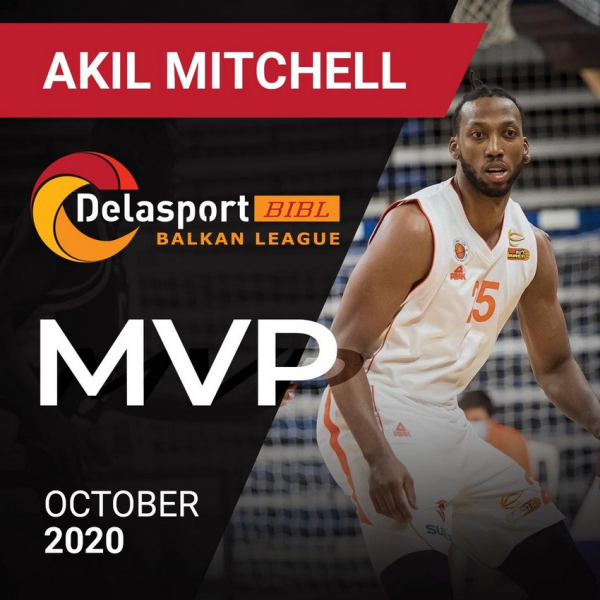 31-10-2020 | 16:35
Akil Mitchell
is the MVP of
Delasport Balkan League
for the month of October. The Maccabi Rishon LeZion forward impressed with his performance in the three games his team had, and was a key part for the two wins.
Mitchell
achieved the highest performance index rating from all players in the competition with 25.7. It came after averaging 19.3 points, 11.3 rebounds and 3.0 assists.
Mitchell
has exceptional shooting percentage for 2 points with 61.8% coming from 11.3 attempts per game. He is also the top rebounder in the competition so far and is contributing in a big way for Maccabi's performances.
Mitchell
debuted in the season with an impressive 18 points and 19 rebounds against Hapoel Ban Yahav Jerusalem in the first round. Unfortunately for him and his team, they lost an overtime thriller despite having a great chance to come with the win. The best
Mitchell
performance came in the next game against Hapoel Alsthuler Shaham Be'er Sheva when he finished with 15 points and 8 rebounds for an efficiency rating of 31. He was more "calm" in the next game against Be'er Sheva but still had a an important role for his team's win.
Maccabi Rishon LeZion has so far 2 wins and 1 defeat in Group D. The team will next play Hapoel Bank Yahav Jerusalem away in a game that will decide the first place in the group. There's no doubt that Mitchell's performance will once again be of a huge important to the team's eventual success and given his MVP award for the month, he'll be even more eager to contribute.
Akil Mitchell is the first MVP of the month for this season and below you can check his best plays of the competition so far. Until the end of the season Delasport Balkan League will continue to choose the MVP for each month.
News
Next Game
No Games Scheduled