Happy Thanksgiving from Delasport Balkan League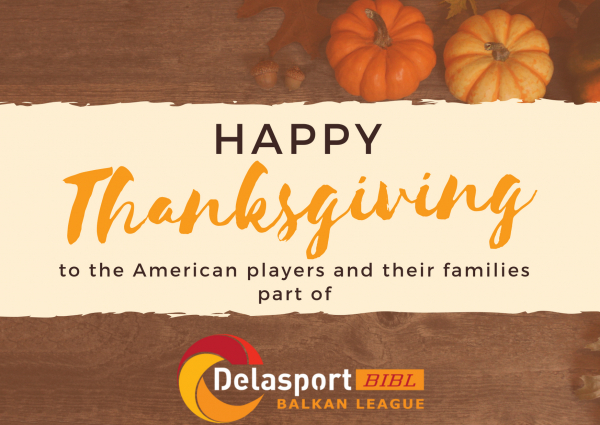 26-11-2020 | 19:27
Delasport Balkan League wishes
Happy Thanksgiving day
to all the American players taking part in the competition and to those who have been part of it in its now rich history.
Delasport Balkan League is saying Thank you to all the Americans who have contributed, are contributing and will contribute to the competition's development.
We wish you to have a great Thanksgiving day and lots of health, luck and quality basketball performances.
News
Next Game
27 Jan 2021
17.00LIVE
YouTube
KK Ibar Rozaje
KK Kumanovo 2009


Sportski Centar
Referees:
Dimitrios Bitis
Nikos Tziopanos
Konstantinos Xenikakis
Commissioner:
Zoran Sutulovic
Schedule
Rozaje | Sportski Centar

27 Jan 2021 17.00
KK Ibar Rozaje
LIVE
KK Kumanovo 2009
YouTube

Plovdiv | Complex Sila

28 Jan 2021 18.00
BC Akademik Plovdiv
LIVE
BC Beroe
YouTube

Kumanovo | Sports Hall Pero Nakov

02 Feb 2021 19.00
KK Kumanovo 2009
LIVE
BC Beroe
YouTube

Skopje | SC Kale

02 Feb 2021 19.30
KK TFT
LIVE
KK Ibar Rozaje
YouTube
All times are local time