Beroe dominates Teodo for another win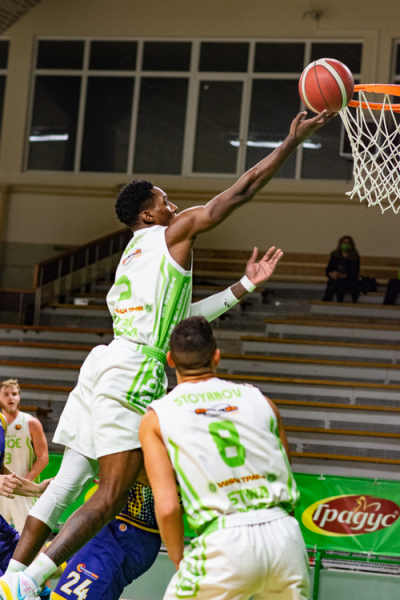 02-12-2020 | 20:14
BC Beroe
recorded its second victory in Delasport Balkan League. The team hosted
KK Teodo
and won
99-77
in dominating fashion. The hosts pulled away by a big margin in the second quarter and had no trouble during the match. Next week Beroe will host Ibar while Teodo will visit Akademik Plovdiv on Thursday evening.
In the first quarter the hosts managed to have a slim lead but in the second the team dominated. The Greens managed to play hard defense, and followed with a very good offense to increase the advantage to 29 points. From then on there was no trouble for the hosts and they cruised on for a dominating victory. In the final quarter Teodo managed to cut some of the deficit but still there was no chance for the team to come close to the 4 points they won with the game in Tivat.
Cadarian Raines
was the top scorer in the game finishing with 22 points.
Derric Jean
made his debut scoring 15 while
Simeon
Iliev
also had 15 while adding 5 rebounds and 5 assists.
Petar Kusovac
and
Arsenije Vuckovic
led Teodo with 18 points apiece as
Lazar Durovic
scored 11.
BOXSCORE
News
Next Game
27 Jan 2021
17.00LIVE
YouTube
KK Ibar Rozaje
KK Kumanovo 2009


Sportski Centar
Referees:
Dimitrios Bitis
Nikos Tziopanos
Konstantinos Xenikakis
Commissioner:
Zoran Sutulovic
Schedule
Rozaje | Sportski Centar

27 Jan 2021 17.00
KK Ibar Rozaje
LIVE
KK Kumanovo 2009
YouTube

Plovdiv | Complex Sila

28 Jan 2021 18.00
BC Akademik Plovdiv
LIVE
BC Beroe
YouTube

Kumanovo | Sports Hall Pero Nakov

02 Feb 2021 19.00
KK Kumanovo 2009
LIVE
BC Beroe
YouTube

Skopje | SC Kale

02 Feb 2021 19.30
KK TFT
LIVE
KK Ibar Rozaje
YouTube
All times are local time