Quotes after the game BC Beroe - KK Teodo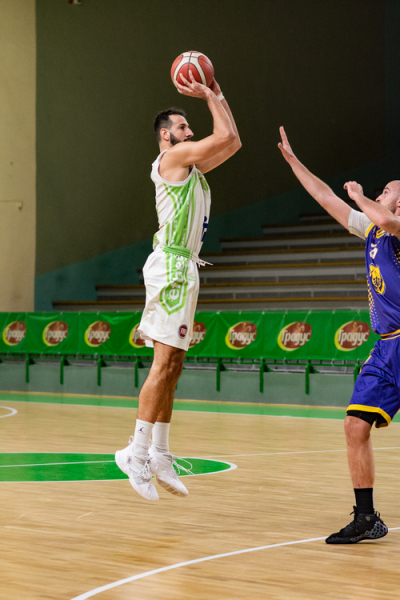 Iliev had 15 points in the win
03-12-2020 | 09:40
BC
Beroe
won its second game in Delasport Balkan League after downing KK
Teodo
at home. The team from Stara Zagora played a superb second quarter managing to pull away and having no problems after that. Below you can find some quotes after the match was over:
Lubomir MInchev, head coach of BC Beroe
: "It was a very important victory for us. We need to be more and more successful in order to reach the next stage. I will divide the game in two parts. I'm pleased with our performance in the first half when we played very well both in offense and in defense. I'm absolutely not satisfied with the second half though. Teodo played more aggressively than us and they managed to get us out of our rhythm."
Simeon Iliev, player of BC Beroe
: "I'm glad that we won. We needed this victory. We still have things to work on. Unfortunately in the second half we didn't play as good as we did in the first but still, the win is a win."
Mirko Prorokovic, head coach of KK Teodo
: "I just want to say that Beroe deserved to win. They were the favourites in this game and, as we can see from the final score, they won easily. We entered very bad in the game. The first half was really really bad for us. Then we improved our performance but the difference was just too big."
Vjekoslav Vucinovic, player of KK Teodo
: "I think there was a period of time when we played very bad. Beroe was more aggressive than us. In some moments of the game however I can say taht we played really well but it wasn't enough to get closer. In the first half there was lack of focus in our team. We were absolutely out of the game. That's why we need to make conclusions about this weakness and try to improve."
News
Next Game
27 Jan 2021
17.00LIVE
YouTube
KK Ibar Rozaje
KK Kumanovo 2009


Sportski Centar
Referees:
Dimitrios Bitis
Nikos Tziopanos
Konstantinos Xenikakis
Commissioner:
Zoran Sutulovic
Schedule
Rozaje | Sportski Centar

27 Jan 2021 17.00
KK Ibar Rozaje
LIVE
KK Kumanovo 2009
YouTube

Plovdiv | Complex Sila

28 Jan 2021 18.00
BC Akademik Plovdiv
LIVE
BC Beroe
YouTube

Kumanovo | Sports Hall Pero Nakov

02 Feb 2021 19.00
KK Kumanovo 2009
LIVE
BC Beroe
YouTube

Skopje | SC Kale

02 Feb 2021 19.30
KK TFT
LIVE
KK Ibar Rozaje
YouTube
All times are local time