Akademik makes a huge comeback to win an overtime thriller in Skopje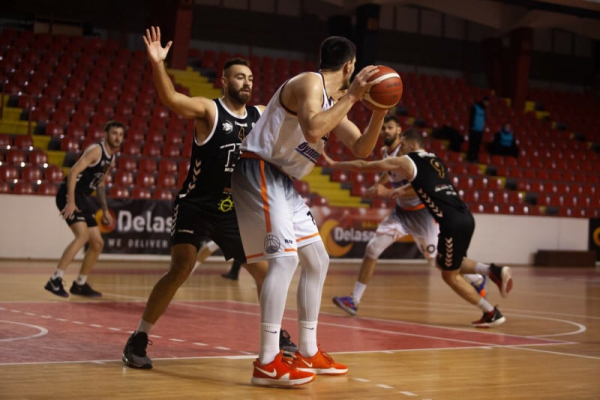 17-12-2020 | 23:41
BC Akademik Plovdiv
is still unbeaten in Delasport Balkan League. The team visited KK TFT and in a real overtime thriller won
104-102
. Akademik was behind by 22 points in the first half but made an amazing comeback and get the victory. It puts them on a 6-0 record while TFT is now at 2-5. The Plovdiv team will visit KK Kumanovo 2009 on Friday evening while next week TFT will travel to Montenegro in order to play Teodo.
It was a close game in the first few minutes as both sides exchanged points. The hosts however made an important run with 3.30 to go in the first quarter when the difference went from 1 to 15 points. After ten minutes it came down to 14 and in the second it even went over 20. A few times the hosts led by 22 and at the break the difference was 20 points.
In the third quarter Akademik changed its behaviour, especially on defense, and things started looking better after the middle of it. Then an 11-0 run happened for the visitors and they closed the deficit to just 8 points. After 30 minutes the margin was 10 and it stayed in that range for the beginning of the fourth quarter. Then Akademik once again made a run and this time it put the team ahead. After scoring 14 points in a row the visitors took a 2-point lead but then with 37 seconds to play Harris tied the score. What followed was a foul on Gugino who scored just the first free throw but then grabbed the rebound. The Sotirov scored to put Akademik up by 3 but after an offensive rebound, Harris scored an amazing triple to tie the game and send it to overtime.
In the extra period the teams exchanged points before TFT took a 3-point advantage. Then Gugino tied with a triple and when the hosts missed, Sotirov was fouled. He scored twice and in the last offense Anderson missed while Akademik celebrated.
Obrad Tomic
was the top performer for the winners with 27 points and 9 rebounds.
Anthony
Gugino
also did well with 22 and 9 while
Nikolay
Nikolov
had 21 and 9.
The hosts were led by a great
Lachlan Anderson
who finished with 37 points.
Tyron
Harris
added 29 and 9 assists as Landrius Horton scored 11 points.
BOXSCORE
News
Next Game
21 Jan 2021
18.00LIVE
YouTube
BC Akademik Plovdiv
KK Ibar Rozaje


Complex Sila
Referees:
Dimitrios Bitis
Konstantinos Xenikakis
Suzana Vujicic

Schedule
Plovdiv | Complex Sila

21 Jan 2021 18.00
BC Akademik Plovdiv
LIVE
KK Ibar Rozaje
YouTube

Tivat | S.C. Zupa

26 Jan 2021
KK Teodo
LIVE
KK Kumanovo 2009
YouTube

Rozaje | Sportski Centar

27 Jan 2021 17.00
KK Ibar Rozaje
LIVE
KK Kumanovo 2009
YouTube

Plovdiv | Complex Sila

28 Jan 2021 18.00
BC Akademik Plovdiv
LIVE
BC Beroe
YouTube

Kumanovo | Sports Hall Pero Nakov

02 Feb 2021 19.00
KK Kumanovo 2009
LIVE
BC Beroe
YouTube

Skopje | SC Kale

02 Feb 2021 19.30
KK TFT
LIVE
KK Ibar Rozaje
YouTube
All times are local time