Amazing night by Kusovac helps Teodo defeat TFT in the last game of 2020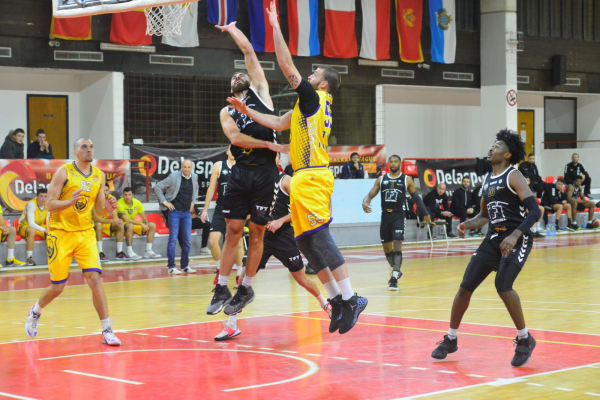 22-12-2020 | 20:39
KK Teodo
recorded its fourth win in Group E of Delasport Balkan League and is now very close to a place in the next stage. The Tivat team hosted
KK TFT
and took
98-83
victory after leading from the middle of the second quarter. The hosts had a double-digit lead after 20 minutes and controlled the difference in the second half. That win puts Teodo at 4-4 record while TFT is now at 2-6 as both teams have two more games to play each. This was also the last match in Delasport Balkan League for year 2020 as the next one will be in the first week of January 2021.
It was a very close and even game for the first 15 minutes. The teams were exchanging leads and baskets as no one could take any big lead. That changed after the middle of the second quarter when Teodo stepped up a gear and made a 17-4 run. That gave the team a double-digit lead at the break as it was 11 points after TFT scored just before the buzzer. In the second half Teodo controlled the game and the difference. TFT managed to come as close as 6 points twice - in the middle of the third quarter and early in the fourth but both times the hosts responded and held on for the win.
The hero in this game was Petar Kusovac. He had almost half of his team's points finishing with 46. Arsenije Vuckovic also did well by adding 18 points and 8 rebounds as Marko Mijovic scored 9.
Amir Smith had a monster double-double for the visitors with 24 points and 14 rebounds while Lachlan Anderson added 18 points.
BOXSCORE
News
Next Game
26 Jan 2021
18.00LIVE
YouTube
KK Teodo
KK Kumanovo 2009


S.C. Zupa
Referees:
Dimitrios Bitis
Nikos Tziopanos
Konstantinos Xenikakis
Commissioner:
Zoran Sutulovic
Schedule
Tivat | S.C. Zupa

26 Jan 2021 18.00
KK Teodo
LIVE
KK Kumanovo 2009
YouTube

Rozaje | Sportski Centar

27 Jan 2021 17.00
KK Ibar Rozaje
LIVE
KK Kumanovo 2009
YouTube

Plovdiv | Complex Sila

28 Jan 2021 18.00
BC Akademik Plovdiv
LIVE
BC Beroe
YouTube

Kumanovo | Sports Hall Pero Nakov

02 Feb 2021 19.00
KK Kumanovo 2009
LIVE
BC Beroe
YouTube

Skopje | SC Kale

02 Feb 2021 19.30
KK TFT
LIVE
KK Ibar Rozaje
YouTube
All times are local time