Tyron Harris: I want to be the best player every time I step on the court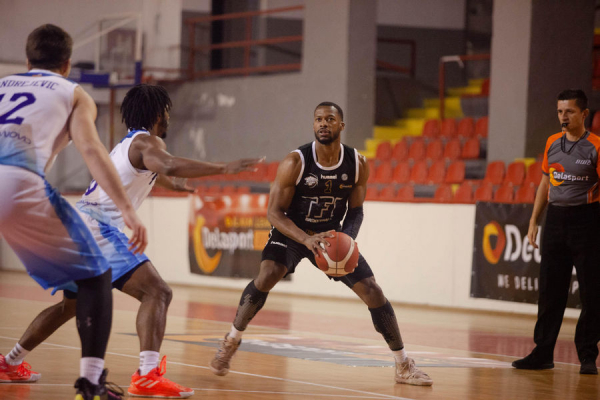 23-12-2020 | 15:52
Tyron Harris was the MVP for the month of November in Delasport Balkan League
. The KK TFT point guard impressed with his performances and was a main reason behind his team's first two wins in the competition.
He is averaging 21.9 points, 4.4 rebounds, 7.8 assists and 2.3 steals per game this season and has proved to be one of the most dangerous weapons in head coach Boro Smilkovski's roster.
Here is what Harris said in a special interview for Delasport BIBL:
As a beginning, we hope we find you well. How do you feel?
I'm well. Grateful for good health during this difficult time.
How did you adjust yourself living in North Macedonia? How do you find your club, teammates and coach?
Over the summer, the president of my current club reached out for a meeting. During the meeting he spoke about the ambitions and goals for the upcoming season. Our goals were the same.I've played in North Macedonia for a few seasons. Because of this I was easily able adjust to my new club in Skopje.
What are the ambitions you have set for yourself for the season?
Honestly, I want to be the best player every time I step on the court.
What motivates you?
My motivation comes from within. I want to get better every single day. This game is all I ever think about.
Delasport Balkan International Basketball League is a new experience, how do you think this additional competition will benefit your personal and team performance this season?
For me as an individual, the BIBL allows me to compete against the best this region has to offer. Each game is tough but it's sharpens my individual game.For our club, we have a lot of young players so the BIBL will provide them with experience and also a competitive advantage moving forward in their careers.
News
Next Game
26 Jan 2021
18.00LIVE
YouTube
KK Teodo
KK Kumanovo 2009


S.C. Zupa
Referees:
Dimitrios Bitis
Nikos Tziopanos
Konstantinos Xenikakis
Commissioner:
Zoran Sutulovic
Schedule
Tivat | S.C. Zupa

26 Jan 2021 18.00
KK Teodo
LIVE
KK Kumanovo 2009
YouTube

Rozaje | Sportski Centar

27 Jan 2021 17.00
KK Ibar Rozaje
LIVE
KK Kumanovo 2009
YouTube

Plovdiv | Complex Sila

28 Jan 2021 18.00
BC Akademik Plovdiv
LIVE
BC Beroe
YouTube

Kumanovo | Sports Hall Pero Nakov

02 Feb 2021 19.00
KK Kumanovo 2009
LIVE
BC Beroe
YouTube

Skopje | SC Kale

02 Feb 2021 19.30
KK TFT
LIVE
KK Ibar Rozaje
YouTube
All times are local time