Vasil Bachev: Winning the Delasport BIBL trophy this season is my ambition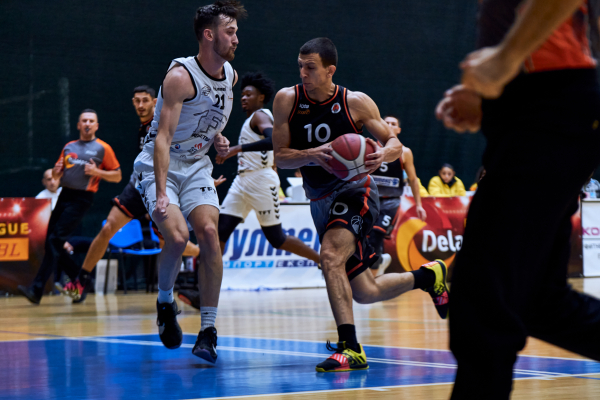 27-12-2020 | 20:04
Vasil Bachev
is the team captain of BC Akademik Plovdiv. The Bulgarian guard is averaging 10.0 points, 4.0 rebounds, 3.0 assists and 1.8 steals per game this season in Delasport Balkan International Basketball League and has proved to be one of the most constant players in head coach Yordan Yankov's roster.
Here is what
Bachev
said in a special interview for Delasport BIBL:
BK Akademik Plovdiv has just 1 loss in Delasport BIBL so far and you practically qualified for the next stage. How do you feel about it?

I feel pretty good about it. We are playing good style of basketball and we are having a great season until now and I am hoping we can continue in the same spirit.
How does the crowd restrictions and the pandemic affect your and your team's performance?
It is a though situation for sure, because at the end of the day we play for the people. We love to see them in the stands as soon as possible , but we have to stay professional and continue to give our best even without them in the stands. We all know all our games are being broadcasted live and the fans of the game can still watch us play. Can't let them down.
In BC Akademik Plovdiv, there has been head coach [Yordan Yankov] and assistant coach [Aleksandar Gruev] transitioning this summer. How did that affect the team spirit and strengths?
I have been working with them both for a long time now. Yordan Yankov was an assistant coach here in Plovdiv and Sasho Gruev was my teammate for the last couple of years. I love working with them , it is a pleasure to work with them both. They understand the game of basketball and they both love what they do. As far as team goes , I think we all have bought in what they believe is right and we all listen to what they have to say. We are working hard every single day to become a better team - we still have a lot to go.
Having played almost against all the Balkan teams in Group E of Delasport BIBL, who was the toughest player and team you have been against on court?
There are a lot of good teams in the Delasport BIBL this season. Beroe is a great team , TFT Skopije is a great young team , Ibar are playing good style of basketball. I was unfortunate not to play against Kumanovo , but time will come. They played good last time against my team. For players I can't say really. There are good and talented players on every team we play. I like competing just like everybody else.
What are your ambitions in the Delasport Balkan League and what do you think about the level and development this season?
My ambitions for this year are to win the Delasport BIBL, of course. It is only up to our team to achieve this goal. I think this year the level is better than last season and also I love the addition of the Israelian teams and can't wait for the second half of the season so we can play with them and see what happens. Happy Holidays to the whole Delasport BIBL family, to my opponents from the other teams and to all the fans that support us and watch us! Stay safe everyone!
News
Next Game
21 Jan 2021
18.00LIVE
YouTube
BC Akademik Plovdiv
KK Ibar Rozaje


Complex Sila
Referees:
Dimitrios Bitis
Konstantinos Xenikakis
Suzana Vujicic

Schedule
Plovdiv | Complex Sila

21 Jan 2021 18.00
BC Akademik Plovdiv
LIVE
KK Ibar Rozaje
YouTube

Tivat | S.C. Zupa

26 Jan 2021
KK Teodo
LIVE
KK Kumanovo 2009
YouTube

Rozaje | Sportski Centar

27 Jan 2021 17.00
KK Ibar Rozaje
LIVE
KK Kumanovo 2009
YouTube

Plovdiv | Complex Sila

28 Jan 2021 18.00
BC Akademik Plovdiv
LIVE
BC Beroe
YouTube

Kumanovo | Sports Hall Pero Nakov

02 Feb 2021 19.00
KK Kumanovo 2009
LIVE
BC Beroe
YouTube

Skopje | SC Kale

02 Feb 2021 19.30
KK TFT
LIVE
KK Ibar Rozaje
YouTube
All times are local time