Petar Kusovac is the Delasport BIBL MVP of December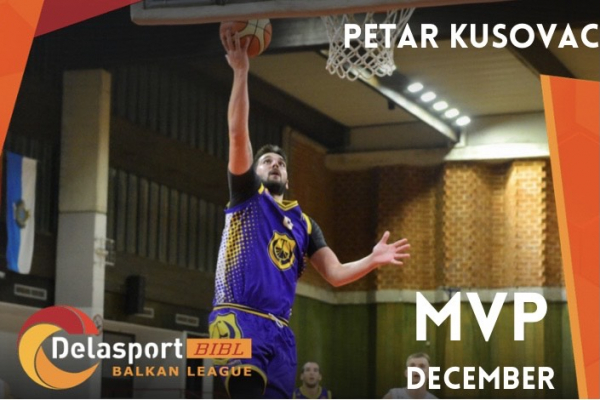 31-12-2020 | 11:17
Petar Kusovac
from KK Teodo is the MVP in Delasport Balkan League for December. The Monenegrian forward had some very good performances in the last month of the year and is honored with that achievement.
Without doubt, above all performances stood the one in the last game against KK TFT. In that match
Kusovac
put one of the best games ever played in the history of BIBL by finishing with 46 points. He also had an Efficiency rating of 43 and was really unstoppable.
Teodo
played a total of four games in December and won twice. The team started with defeats in the trip to Bulgaria to Beroe and Akademik Plovdiv and then defeated KK Kumanovo 2009. Against Akademik
Kusovac
played his worst game of the season but more than made up for it in the matches that followed. Against Kumanovo the Montenegrin finished with 23 points and 4 assists and helped his team get the win.
In total for the month of December
Kusovac
had an average Efficiency rating of 23 while also putting up 23.75 points per game.
So far Teodo is in second place in the competition with 4 wins and 4 losses. The team has two more games to play and is with a great position to qualify for the Second Stage.
On the link below, you can watch the highlights of
Petar Kusovac
and his performance in the game KK Teodo - KK TFT:
News
Next Game
26 Jan 2021
18.00LIVE
YouTube
KK Teodo
KK Kumanovo 2009


S.C. Zupa
Referees:
Dimitrios Bitis
Nikos Tziopanos
Konstantinos Xenikakis
Commissioner:
Zoran Sutulovic
Schedule
Tivat | S.C. Zupa

26 Jan 2021 18.00
KK Teodo
LIVE
KK Kumanovo 2009
YouTube

Rozaje | Sportski Centar

27 Jan 2021 17.00
KK Ibar Rozaje
LIVE
KK Kumanovo 2009
YouTube

Plovdiv | Complex Sila

28 Jan 2021 18.00
BC Akademik Plovdiv
LIVE
BC Beroe
YouTube

Kumanovo | Sports Hall Pero Nakov

02 Feb 2021 19.00
KK Kumanovo 2009
LIVE
BC Beroe
YouTube

Skopje | SC Kale

02 Feb 2021 19.30
KK TFT
LIVE
KK Ibar Rozaje
YouTube
All times are local time