Ibar overcomes a slow start to win a thrilling first game of 2021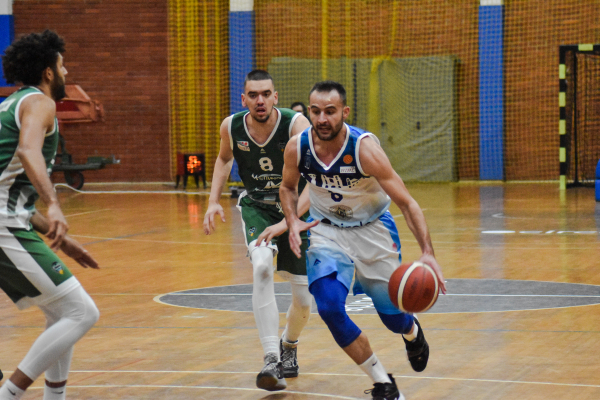 05-01-2021 | 20:07
KK Ibar
is the winner of the first game of 2021 in Delasport Balkan League. The Rozaje team visited
KK Kumanovo 2009
and took an
81-79
victory after overcoming a slow start. The hosts had a good early lead but from the second quarter on it was the visitors who were doing a bit better and came away with the win at the end. It puts Ibar at 3-3 record which ties the team with Beroe. Kumanovo on the other side is in last position with 2-4 record and will travel to Bulgaria for two games next week.
The teams exchanged one quarter in the first half with the hosts having the better in at the start but the visitors in the second. At the break the score was tied and it continued to be a close game throughout the third period. Early in the fourth the visitors managed to pull away and hung on to their lead. They entered the final minute up by 4 but due to Amin Hot missing four free throws in the decisive moments, Kumanovo had their chances. With 6 seconds to go and Ibar leading by 2, the hosts had an opportunity to tie or win the game but first Robev missed a triple and then the buzzer sounded.
Four players scored in double figures for the winners with
Amin Hot
and
Nemanja Simovic
having 15 points apiece.
Eldin Huremovic
and
Maid Cicic
also did well having 12 points each and 8 and 7 rebounds respectively.
The top player in the game was
Gorjan Markovski
but his 33 points and 9 triples weren't enough for Kumanovo. The only other in double figures for the hosts was
Corey Raley-Ross
with 13 points adding also 8 rebounds, 4 assists but having 7 turnovers.
BOXSCORE
News
Next Game
21 Jan 2021
18.00LIVE
YouTube
BC Akademik Plovdiv
KK Ibar Rozaje


Complex Sila
Referees:
Dimitrios Bitis
Konstantinos Xenikakis
Suzana Vujicic

Schedule
Plovdiv | Complex Sila

21 Jan 2021 18.00
BC Akademik Plovdiv
LIVE
KK Ibar Rozaje
YouTube

Tivat | S.C. Zupa

26 Jan 2021
KK Teodo
LIVE
KK Kumanovo 2009
YouTube

Rozaje | Sportski Centar

27 Jan 2021 17.00
KK Ibar Rozaje
LIVE
KK Kumanovo 2009
YouTube

Plovdiv | Complex Sila

28 Jan 2021 18.00
BC Akademik Plovdiv
LIVE
BC Beroe
YouTube

Kumanovo | Sports Hall Pero Nakov

02 Feb 2021 19.00
KK Kumanovo 2009
LIVE
BC Beroe
YouTube

Skopje | SC Kale

02 Feb 2021 19.30
KK TFT
LIVE
KK Ibar Rozaje
YouTube
All times are local time