2 or 3 group winners to be decided over the weekend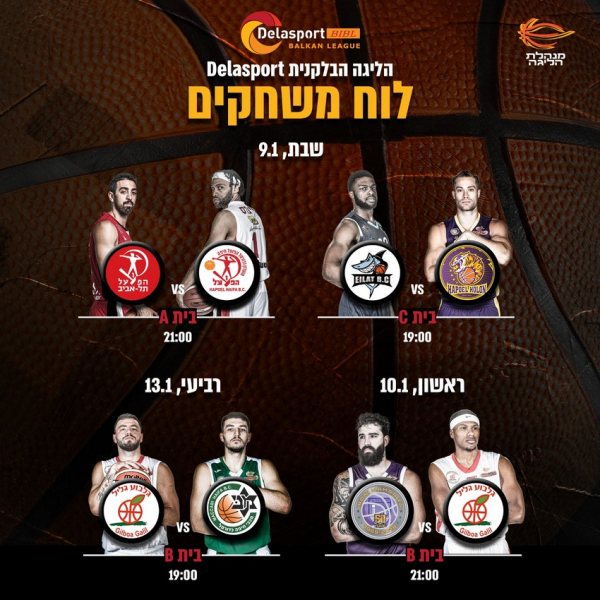 09-01-2021 | 10:10
Three group winners in Delasport Balkan League could be decided over the weekend. On Saturday and Sunday evening games from groups A, B and C will be played and they will determine which teams will advance forward to the Semifinals.
We tip-off with a Group C game as starting at 19.00 hrs
Hapoel
Holon
will host
Hapoel Yossi Avrahami Eilat
. The home side currently has 3-0 record while the visitors are at 2-1. If Hapoel Holon wins than the team will finish first in the group. That could happen also with a defeat as in order for Hapoel Eilat to move to first position, the team has to win by at least 19 points difference.
Than at 21.00 hrs
Hapoel B-Cure Laser Haifa
will host
Hapoel SP Tel Aviv
in GGroup A. This group has the craziest situation as if Hapoel Haifa wins, then three teams could finish with 2-2 record and then the tie-breaker rules will come into effect. If the winner from this game is Hapoel SP Tel Aviv, the things are clear - the team will finish first and advance to play the winner from Group C in the Semifinal.
The weekend will finish with a game on Sunday evening between
Hapoel Gilboa Galil
and
Ironi Nahariya
. So far Hapoel has 2-0 record and with a win will finish first. That could happen also with a defeat if it's up to 13 points but then the team will have to beat Maccabi Haifa on Wednesday. For Ironi Nahariya, the only chance to finish first in the group is by winning this game by at least 15 points.
The last game of the Group Stage will be next weekend as
Hapoel Bank Yahav Jerusalem
will take on
Maccabi Rishon LeZion
to determine the winner in group D.
All games will be broadcast LIVE on TV channel Sport 5 and Delasport Balkan League YouTube channel.
News
Next Game
19 Jan 2021
18.00LIVE
YouTube
BC Beroe
KK Ibar Rozaje


Obshtinska
Referees:
Dimitrios Bitis
Konstantinos Xenikakis
Stavros Evfraimidis

Schedule
Stara Zagora | Obshtinska

19 Jan 2021 18.00
BC Beroe
LIVE
KK Ibar Rozaje
YouTube

Rishon LeZion | Beit Maccabi

20 Jan 2021 19.00
Maccabi Rishon LeZion
Hapoel Gilboa Galil B.C.
Sport 5, YouTube

Plovdiv | Complex Sila

21 Jan 2021 18.00
BC Akademik Plovdiv
KK Ibar Rozaje
YouTube

Tivat | S.C. Zupa

26 Jan 2021
KK Teodo
KK Kumanovo 2009
YouTube

Rozaje | Sportski Centar

27 Jan 2021 17.00
KK Ibar Rozaje
LIVE
KK Kumanovo 2009
YouTube

Plovdiv | Complex Sila

28 Jan 2021 18.00
BC Akademik Plovdiv
BC Beroe
YouTube
All times are local time