Bourdillon erupts for 9 triples to lead Hapoel Holon to first place in Group C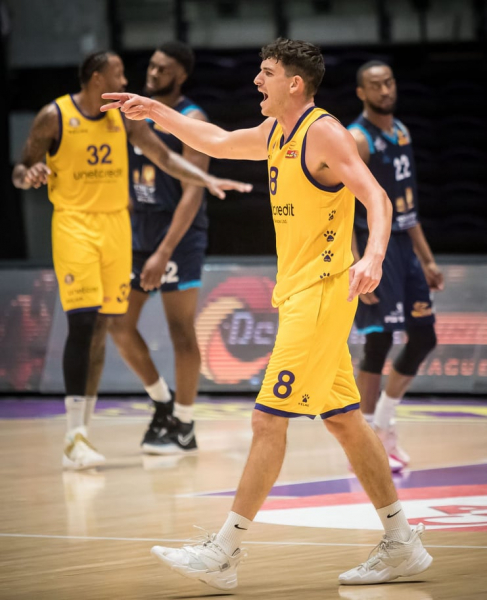 09-01-2021 | 21:55
Hapoel Holon
is the winner of Group C in Delasport Balkan League. The team defeated Hapoel Yossi Avrahami Eilat at home
105-102
after overtime to finish the group with 4-0 record. The hosts led throughout the game but in the final quarter the visitors fought back to send the game to overtime. In the extra 5 minutes Holon managed to pull away by 6 points with two minutes to go and they held on after that.
Now Hapoel Holon advances to the Semifinals and in the next few days will know who its opponent will be. The winner of that game will reach the Second Stage of Delasport Balkan League where will be joined by the teams from Group E.
The teams exchanged baskets early and then the hosts started pulling away. The visitors went scoreless for more than 5 minutes which allowed Holon to make a 12-0 run to go up by double-digits. They kept that lead until the end of the first quarter which came at a 10-point difference. Holon continued to have a big lead in the second as well and it even reached 18 points four minutes before the break. Eilat however didn't give up and went on an 8-1 run to finish the half and cut the deficit to 10.
In the third period the visitors were trying to close the gap even further and managed to come to just 4 points gap. A quick 12-0 run by the hosts however put them up by 16 before Eilat cutting it to 10 again after finishing better the quarter. In the last one the hosts were in control early and still had a 10-point advantage with four minute to play. In less than three however Eilat made a 12-2 run and tied the score thanks to a
Ragland
triple. Then both teams scored one basket each and both had chances to win the game but missed them and it went to overtime.
The extra period started with 7 points in a row for Holon and with three minutes to go the hosts were up by 8. The visitors tried another comeback and came within 2 points with 22 seconds to play. After
Pnini
made just one free throw Eilat had opportunity to ties but they missed it twice and at the end Holon celebrated a thrilling win.
In total the home side had 19 three-pointers from 40 attempts which compared to 8 of 31 for the visiting side, gave them a big advantage.
Five players scored in double figures for the hosts with
Frederic Bourdillon
standing above the others. He scored 9 triples from 13 attempts on his way to 34 points while also adding 5 rebounds.
Tyrus
McGee
had 17 points as
Oded
Brandwein
added 15 and 6 assists.
The visitors were led by
Casey Prather
who had 28 points, 8 rebounds and 5 assists.
Josh Nebo
also did well with 21 points and 9 rebounds as
Joe Ragland
had 15 points.
BOXSCORE
News
Next Game
27 Apr 2021
17.30LIVE
BC Beroe
BC Akademik Plovdiv

| | |
| --- | --- |
| Toto Arena | Referees: |
Schedule
Holon | Toto Arena

27 Apr 2021 17.30
BC Beroe
LIVE
BC Akademik Plovdiv

Holon | Toto Arena

27 Apr 2021 20.00
Hapoel Holon B.C.
LIVE
Hapoel Gilboa Galil B.C.
All times are local time