Quotes after the game BC Beroe - KK Kumanovo 2009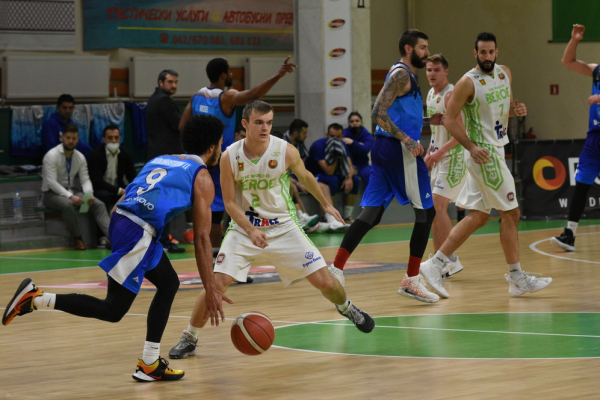 15-01-2021 | 09:21
BC Beroe had its fourth win of the season after downing KK Kumanovo 2009 at home. Below you can find some quotes after the game was over:
Lubomir Minchev, head coach of BC Beroe
: "First of all I'm satisfied with the way my team played through the game. We were well organized from the beginning to the end. I saw that Kumanovo's players weren't so fresh, as the previous game against Akademik. That gave us some advantage. We played really fast in the first half and finished with a high shooting rate. That makes me satisfied."
Simeon Iliev, player of BC Beroe
: "I think that in the beginning we played so aggressively that they had nothing to do against us. Their fatigue was obvious. I just want to notice our incredible rate of successful shooting. That's why we won by a great margin."
Vladimir Mirkovski, head coach of KK Kumanovo 2009
: "This was our second match in as many days after we won in Plovdiv. The match against Beroe was different. We tried something but we were really tired. Beroe also surprised us with an amazing shooting. They made everything really fast."
Aleksandar Andrejevic, player of KK Kumanovo 2009
: "We had a tough match against Akademik which we won and it was great. Against Beroe though, we lacked energy. We were tired and weren't well organized. That's why the difference is so big. We are pleased with the win over Akademik as our goal was to get 1 win in our trip to Bulgaria."
News
Next Game
10 Mar 2021
20.00LIVE
Sport 5, YouTube
KK Kumanovo 2009
Hapoel Holon B.C.


Sports Hall Pero Nakov
Referees:
Ognjen Jokic
Ploutarhos Eleftheriadis
Ivan Lakicevic
Commissioner:
Georgios Tanatzis
Schedule
Kumanovo | Sports Hall Pero Nakov

10 Mar 2021 20.00
KK Kumanovo 2009
LIVE
Hapoel Holon B.C.
Sport 5, YouTube

Gan Ner | Gan Ner

16 Mar 2021
Hapoel Gilboa Galil B.C.
LIVE
KK TFT
Sport 5, YouTube

Plovdiv | Complex Sila

17 Mar 2021
BC Akademik Plovdiv
LIVE
KK Kumanovo 2009
YouTube

Gan Ner | Gan Ner

18 Mar 2021
Hapoel Gilboa Galil B.C.
LIVE
BC Beroe
Sport 5, YouTube

Holon | Toto Arena

25 Mar 2021
Hapoel Holon B.C.
LIVE
BC Akademik Plovdiv
Sport 5, YouTube

Stara Zagora | Obshtinska

31 Mar 2021
BC Beroe
LIVE
KK TFT
YouTube
All times are local time