Hapoel Holon and Hapoel Tel Aviv to decide the first team to the Second Stage today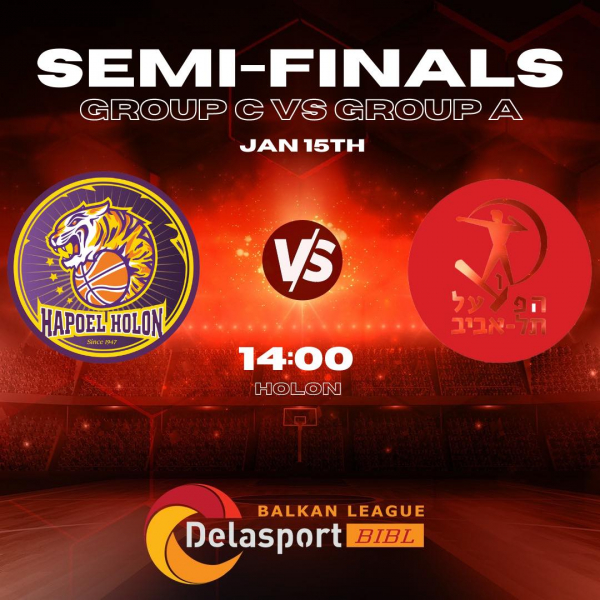 15-01-2021 | 09:46
In the after noon we'll know the one of the Israeli teams that will play in the Second Stage of Delasport Balkan League. At 14.00 hrs local time
Hapoel Holon
will host
Hapoel SP Tel Aviv
as the winner will advance forward in the competition. The teams won Group C and Group A respectively and a draw determined the game to be played in Holon.
The hosts had a convincing run in its group winning all four games. They have a good mix of players and a threat can come from a lot of sides. The balanced effort is what led Holon so far and hopefully for the team, it will be on display today as well. De Zeeuw has gelled well since joining the team while Miles, McGee, Johnson and Bourdillon are a threat from start to finish. The experience of Pnini and Brandwein is also something to keep in mind as they are important in the rotations during any game.
Hapoel SP Tel Aviv
won three of its four games in the group but that doesn't matter today. During the season the team made changes in bringing in Tokoto and Jones who will need to perform well. Adding to them Upshaw and the local stars Timor and Madar, and we can see taht Hapoel Tel Aviv will have its chances. The team will have to play tough defense and and only then opportunities for a win will come.
So far the teams have met once in the Winner League with Hapoel Holon winning 77-63 just before the end of 2020. That of course won't matter today as it's a totally difference game with really different stakes.
The match will start at 14.00 hrs local time and will be broadcast LIVE on TV channel Sport 5 and on Delasport Balkan League YouTube channel.
News
Next Game
10 Mar 2021
20.00LIVE
Sport 5, YouTube
KK Kumanovo 2009
Hapoel Holon B.C.


Sports Hall Pero Nakov
Referees:
Ognjen Jokic
Ploutarhos Eleftheriadis
Ivan Lakicevic
Commissioner:
Georgios Tanatzis
Schedule
Kumanovo | Sports Hall Pero Nakov

10 Mar 2021 20.00
KK Kumanovo 2009
LIVE
Hapoel Holon B.C.
Sport 5, YouTube

Gan Ner | Gan Ner

16 Mar 2021
Hapoel Gilboa Galil B.C.
LIVE
KK TFT
Sport 5, YouTube

Plovdiv | Complex Sila

17 Mar 2021
BC Akademik Plovdiv
LIVE
KK Kumanovo 2009
YouTube

Gan Ner | Gan Ner

18 Mar 2021
Hapoel Gilboa Galil B.C.
LIVE
BC Beroe
Sport 5, YouTube

Holon | Toto Arena

25 Mar 2021
Hapoel Holon B.C.
LIVE
BC Akademik Plovdiv
Sport 5, YouTube

Stara Zagora | Obshtinska

31 Mar 2021
BC Beroe
LIVE
KK TFT
YouTube
All times are local time