Defense is the key as Hapoel Holon is through to the Second Stage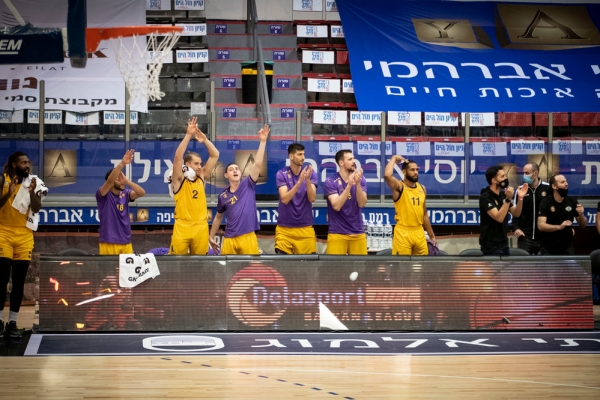 15-01-2021 | 16:14
Hapoel Holon
will be one of the Israeli teams that will be in the Second Stage of Delasport Balkan League. The team played great defense in the second half to defeat
Hapoel SP Tel Aviv
77-66
at home to qualify further in the competition. The visitors led at the break but then
Holon
stepped up on defense, allowed just 31 points and came out with the win. Now the team will wait for Group E to finish in order to understand its opponents in the Second Stage. As for
Hapoel
Tel
A
v
iv, the team really did well early but then couldn't hold and is now out of the competition.
The visitors jumped to an early 10-2 lead and kept it until the end of the first half. Few times the hosts cut the deficit to 2 points, once even to just 1, but never had took an advantage in the first two quarters.
All of that changed at the 3:20 mark of the third quarter when CJ Harris scored to give Holon its first lead of the game. It didn't last long as the visitors restored their advantage and even went on a run to go up by 5 but a 9-0 run to end the quarter, gave the hosts the lead for good. The game continued to be close with the visitors missing few chances to tie it before the middle of the fourth quarter. Then, the home side scored 7 points in a row to go up by 9 and eventually held on to its advantage in the final three minutes.
Chris Johnson
was the top scorer for the winners with his 13 points.
Isaiah Miles
had 12 while
Maxime De Zeeuw
and
Tyrus McGee
added 10 points apiece.
The visitors were led by
Tyrique Jones
who finished with double-double of 21 points and 10 rebounds.
Yam Madar
had 15 points and 4 assists as
Reggie Upshaw
added 12 points and 8 rebounds. The visitors though missed a total of 9 free throws and couldn't capitalize on the fact that they had 7 offensive rebounds more than its opponent.
BOXSCORE
News
Next Game
08 Mar 2021
LIVE
BC Beroe
Hapoel Gilboa Galil B.C.

| | |
| --- | --- |
| Obshtinska | Referees: |
Schedule
Stara Zagora | Obshtinska

08 Mar 2021
BC Beroe
LIVE
Hapoel Gilboa Galil B.C.

Skopje | SC Kale

10 Mar 2021
KK TFT
LIVE
Hapoel Gilboa Galil B.C.

Kumanovo | Sports Hall Pero Nakov

12 Mar 2021
KK Kumanovo 2009
LIVE
Hapoel Holon B.C.
Sport 5, YouTube

Gan Ner | Gan Ner

16 Mar 2021
Hapoel Gilboa Galil B.C.
LIVE
KK TFT
Sport 5, YouTube

Plovdiv | Complex Sila

17 Mar 2021
BC Akademik Plovdiv
LIVE
KK Kumanovo 2009
YouTube

Gan Ner | Gan Ner

18 Mar 2021
Hapoel Gilboa Galil B.C.
LIVE
BC Beroe
Sport 5, YouTube
All times are local time