Hapoel Gilboa Galil is through to the Second Stage as Maccabi Rishon LeZion misses 17 free throws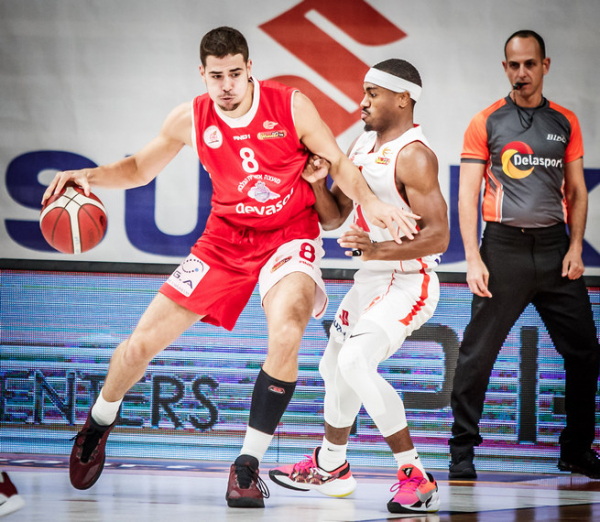 Hanochi hit two important triples in the third qua
20-01-2021 | 20:47
Hapoel Gilboa Galil
is the other Israeli team that will continue to the Second Stage of Delasport Balkan League. That became fact after the team defeated
Maccabi Rishon LeZion
away
85-78
in the Semifinal round. That also means that Hapoel Gilboa Galil will continue its quest for a third BIBL title after the ones in 2012 and 2013. The biggest difference between the teams was the free throw shooting and it's what cost Maccabi the game. The hosts missed a total of 17 from 27 attempts while the visitors were almost perfect going 15 from 17. That proved too much to overcome for the home side and eventually they lost.
Now
Hapoel Holon
and
Hapoel Gilboa Galil
will join four teams from Group E in the Second Stage. A total of two groups with three teams each will be formed after a draw as the remaining squads will start fighting to qualify for the Final Four.
An early 8-0 run put the visitors up by 6 points and they led after. Few times Maccabi managed to close the gap to just 1 but Hapoel responded and then thanks to a 7-0 run to end the period, the difference went to 9 points. In the second quarter the visitors controlled the score. They even went up by double-digits and didn't allow Maccabi to come close so at the break the difference was 11.
The lead went to 14 points shortly after the start of the third quarter but Maccabi responded to close it to 7. The hosts even had a good shot to cut the deficit to 4 but the ball rimmed out and then Hapoel went on a run. Hanochi hit two triples in the 7-0 run as the lead again reached 14 points. Then for three minutes both teams couldn't score a single field goal and the difference went to 15 thanks to a 2-1 free throws made by the visitors. With 7 seconds to play in the quarter Taylor finally scored a triple and before the final ten minutes, Hapoel led by 12 points. The visitors scored the first 5 of the last quarter and that increased their advantage to 17. From that moment on there was no chance of a comeback for Maccabi as Hapoel cruised on to take an impressive victory.
Kerry Blackshear
was the top performer for the winners with 20 points and 8 rebounds.
Jehyve Floyd
also did very well finishing with 17 and 8 plus 3 blocks as
Yotam
Hanochi
and
Yiftach
Ziv
added 11 points each.
The hosts were led by
Isaiah Taylor
who finished with 17 points.
Trey
Lewis
added 13, with 11 coming in the first half, while Noam Aviv scored 12 points.
BOXSCORE
News
Next Game
No Games Scheduled