Hapoel Holon - one of the oldest teams in Israel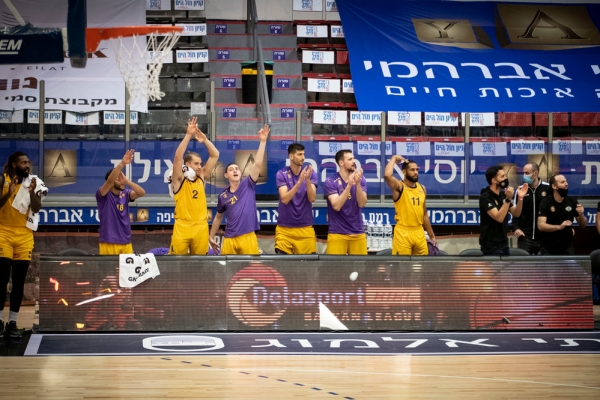 21-01-2021 | 12:57
Hapoel Holon
is one of the two Israeli teams that will play in the Second Stage of Delasport Balkan League. The team is unbeaten so far after winning all four of its games in Group C and then the Semifinal round match against Hapoel SP Tel Aviv. That guaranted the team a place in the Second Stage so Hapoel will be fighting for the trophy.
Hapoel Holon
is one of the oldest clubs in Israel. It was founded back in 1947 and is also one of the teams playing in the first season in the top division back in 1954. Hapoel finished second both that season and the next one and has reached the semifinals of Israeli championship nine teams.
A curious fact in the history of the club is that the current Sports Director of Delasport Balkan League - Mr.
Shay
Shtriks
used to play for the team as a youngster. In 1974 he even won the U18 National title of Israel being MVP in that game. In those year his father was also the president of the club.
One more interesting fact is that the team's colors are yellow and purple after a Jewish American fan of the Los Angeles Lakers donated uniforms in the colors of his favorite club. Before that, the team played in red and white uniforms.
Of course the biggest success in Hapoel Holon's history is in 2008 when the team defeated Maccabi Tel Aviv by 1 points to win its first and only title of Israel. The next year Hapoel managed to get another trophy winning the State's cup which was repeated in 2018.
The current season of Hapoel is also a busy one as the tam is participating in the Champions league as well. The team has qualified for the next stage as well so it will be looking for one more trophy. In the Winner League so far Hapoel Holon has 5-3 and is in sixth place while at the end of 2020 the team reached the League cup final which was lost to Maccabi Tel Aviv.
Hapoel Holon has a deep roster and is one of the favourites to win Delasport Balkan League. The team's head coach is Stefanos Dedas who will no doubt try to take the first international's trophy in the history of the club. There is a good mix of experienced foreign players and local ones so more it'll be interesting to see how they'll fare in the next stage.
News
Next Game
08 Mar 2021
LIVE
BC Beroe
Hapoel Gilboa Galil B.C.

| | |
| --- | --- |
| Obshtinska | Referees: |
Schedule
Stara Zagora | Obshtinska

08 Mar 2021
BC Beroe
LIVE
Hapoel Gilboa Galil B.C.

Skopje | SC Kale

10 Mar 2021
KK TFT
LIVE
Hapoel Gilboa Galil B.C.

Kumanovo | Sports Hall Pero Nakov

12 Mar 2021
KK Kumanovo 2009
LIVE
Hapoel Holon B.C.
Sport 5, YouTube

Gan Ner | Gan Ner

16 Mar 2021
Hapoel Gilboa Galil B.C.
LIVE
KK TFT
Sport 5, YouTube

Plovdiv | Complex Sila

17 Mar 2021
BC Akademik Plovdiv
LIVE
KK Kumanovo 2009
YouTube

Gan Ner | Gan Ner

18 Mar 2021
Hapoel Gilboa Galil B.C.
LIVE
BC Beroe
Sport 5, YouTube
All times are local time