Quotes after the game BC Akademik Plovdiv - KK Ibar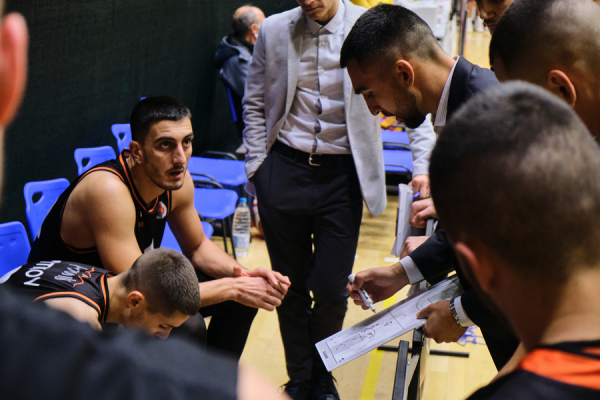 22-01-2021 | 10:12
BC Akademik Plovdiv recorded its 7th win since the start of the season in Delasport Balkan League. The team defeated KK Ibar and it secured at least a second place in Group E. Here are some quotes once the game was over:

Yordan Yankov, head coach of BC Akademik Plovdiv: "We started really focused and concentrated in the first quarter. After that we relaxed a bit and this is why there were some downs in our performance. We need to work on that part of our game. We are still trying to adapt according to the circumstances and are trying difference things for our practice sessions."
Robert Georgiev, player of BC Akademik Plovdiv: "In the first quarter we played very well especially on defense and this is how our offense also got going. Perhaps the calmness after that affected us in a negative way and our level went down. However I think we played a good game and recorded another win. I want to congratulate Ibar for playing so tough in that game.".

Amin Hot, player of KK Ibar: "We started the game really bad and the hosts managed to keep up their advantage. We tried to comeback but our shots weren't going in. In the last 6 days we played four games, the traveling also made us more tired and it had an affect on our performance. I congratulate Akademik, they deserved the win."
News
Next Game
03 Mar 2021
17.00LIVE
YouTube
KK Kumanovo 2009
BC Akademik Plovdiv


Sports Hall Pero Nakov
Referees:
Stelios Symeonides
Diamantis Lortos
Ioannis Bakalis
Commissioner:
Georgios Tanatzis
Schedule
Kumanovo | Sports Hall Pero Nakov

03 Mar 2021 17.00
KK Kumanovo 2009
LIVE
BC Akademik Plovdiv
YouTube

Stara Zagora | Obshtinska

08 Mar 2021
BC Beroe
LIVE
Hapoel Gilboa Galil B.C.

Skopje | SC Kale

10 Mar 2021
KK TFT
LIVE
Hapoel Gilboa Galil B.C.

Kumanovo | Sports Hall Pero Nakov

12 Mar 2021
KK Kumanovo 2009
LIVE
Hapoel Holon B.C.
Sport 5, YouTube

Gan Ner | Gan Ner

16 Mar 2021
Hapoel Gilboa Galil B.C.
LIVE
KK TFT
Sport 5, YouTube

Gan Ner | Gan Ner

18 Mar 2021
Hapoel Gilboa Galil B.C.
LIVE
BC Beroe
Sport 5, YouTube
All times are local time