Quotes after the game BC Akademik Plovdiv - BC Beroe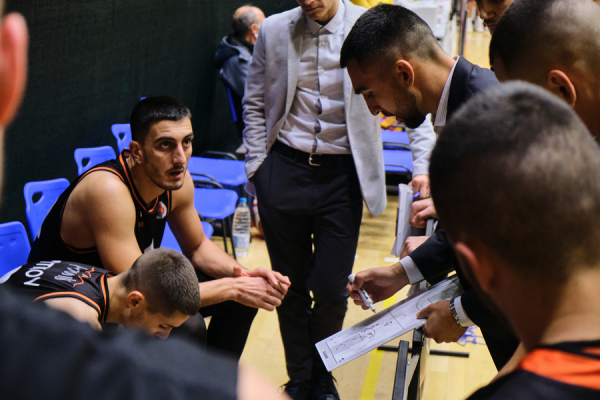 29-01-2021 | 09:34
BC Akademik Plovdiv had a dramatic win over BC Beroe after Jere Vucica scored in the final second. Below you can find some quotes once the game was over:
Yordan Yankov, head coach of Akademik Plovdiv
: "The game was not important for both teams as they had already secured a qualification. Both teams however played hard. I also let the young players in but in general we used our main roster as the Balkan League deserves a respect. I'm very happy with everybody as we didn't underestimate the game. I think that the first place in the First Stage is a success for us and our city can be proud. We're still making a lot of unforced errors but we haven't had the time to practice."
Jere Vucica, player of BC Akademik Plovdiv
: "A win is a win. We had to run after our opponent at the end but it paid off."
Lubomir Minchev, head coach of BC Beroe
: "I don't know what to say. We lost right at the end and for third time against Akademik. Generally I'm happy with our performance except for the final minutes."
Nikolay Stoyanov, player of BC Beroe
: "We didn't have luck at the end and lost. The game was not important for the standings but we tried to win it. We'll try to fix the things where we made mistakes. We had some good periods on offense and defense but again we showed our weaknesses which I hope we'll fix with time."
News
Next Game
08 Mar 2021
LIVE
BC Beroe
Hapoel Gilboa Galil B.C.

| | |
| --- | --- |
| Obshtinska | Referees: |
Schedule
Stara Zagora | Obshtinska

08 Mar 2021
BC Beroe
LIVE
Hapoel Gilboa Galil B.C.

Skopje | SC Kale

10 Mar 2021
KK TFT
LIVE
Hapoel Gilboa Galil B.C.

Kumanovo | Sports Hall Pero Nakov

12 Mar 2021
KK Kumanovo 2009
LIVE
Hapoel Holon B.C.
Sport 5, YouTube

Gan Ner | Gan Ner

16 Mar 2021
Hapoel Gilboa Galil B.C.
LIVE
KK TFT
Sport 5, YouTube

Plovdiv | Complex Sila

17 Mar 2021
BC Akademik Plovdiv
LIVE
KK Kumanovo 2009
YouTube

Gan Ner | Gan Ner

18 Mar 2021
Hapoel Gilboa Galil B.C.
LIVE
BC Beroe
Sport 5, YouTube
All times are local time