Otis Livingston is the Delasport BIBL MVP for January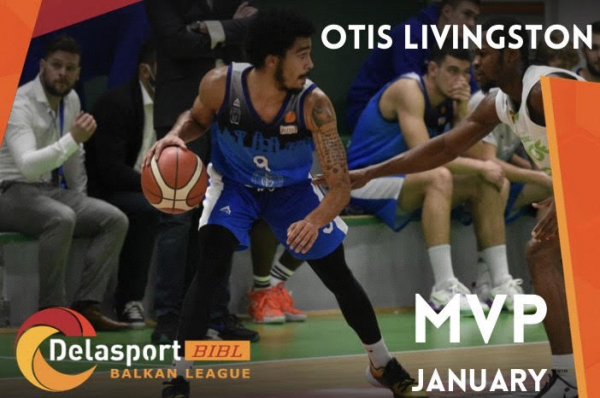 01-02-2021 | 12:08
Otis Livingston
of KK Kumanovo 2009 is the Delasport Balkan League MVP for the month of January. The point guard of KK Kumanovo 2009 has had a very important role in his team's success over the past month and deserved the praise for his play.
Livingston
joined Kumanovo shortly after the start of the year and contributed in a big way for the team's three wins from four games. Kumanovo played away from home and managed to beat Akademik Plovdiv, Teodo and Ibar and thanks to that secured a qualification for the Second Stage of the competition.
The best game for
Livingston
perhaps came in Rozaje against Ibar where he had 32 efficiency index after finishing with 24 points, 7 assists and 4 rebounds. His debut was also an impressive one after logging 21 points and 9 assists in the win against Akademik.
Livingston
finished in double figures in all four of the games and his addition to Kumanovo was felt immediately. For the month of January the American point guard averaged 17.8 points, 5.8 assists and 2.3 rebounds per game. That was good enough for Efficiency rating of 20.5 which is the best in the competition for the first month of 2021.
As mentioned above, KK Kumanovo 2009 has already secured its place in the Second Stage of Delasport Balkan League. On Wednesday the team will host BC Beroe as this match will determine which team will finish second in Group E.
News
Next Game
08 Mar 2021
LIVE
BC Beroe
Hapoel Gilboa Galil B.C.

| | |
| --- | --- |
| Obshtinska | Referees: |
Schedule
Stara Zagora | Obshtinska

08 Mar 2021
BC Beroe
LIVE
Hapoel Gilboa Galil B.C.

Skopje | SC Kale

10 Mar 2021
KK TFT
LIVE
Hapoel Gilboa Galil B.C.

Kumanovo | Sports Hall Pero Nakov

12 Mar 2021
KK Kumanovo 2009
LIVE
Hapoel Holon B.C.
Sport 5, YouTube

Gan Ner | Gan Ner

16 Mar 2021
Hapoel Gilboa Galil B.C.
LIVE
KK TFT
Sport 5, YouTube

Plovdiv | Complex Sila

17 Mar 2021
BC Akademik Plovdiv
LIVE
KK Kumanovo 2009
YouTube

Gan Ner | Gan Ner

18 Mar 2021
Hapoel Gilboa Galil B.C.
LIVE
BC Beroe
Sport 5, YouTube
All times are local time