Tyron Harris is the Delasport BIBL MVP for Stage 1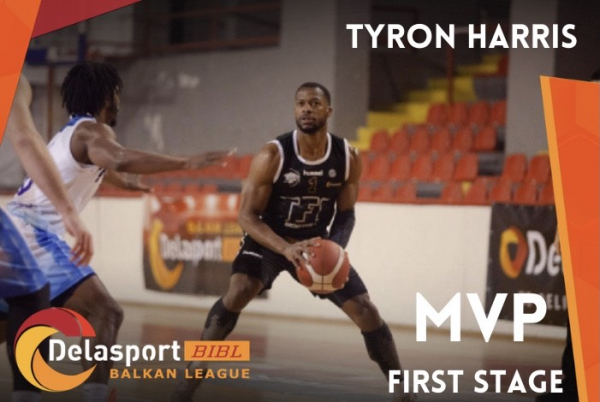 08-02-2021 | 16:18
Tyron Harris
is the MVP of the First Stage of Delasport Balkan League. The American point guard of KK TFT impressed with his performances in the first part of the competition and was a key part of his team's success in reaching the Second Stage.
Harris
played in all 10 games of TFT and averaged 20.7 points, 7.9 assists and 4.0 rebounds. He had an efficiency rating of 22.4 which was good enough for him to be named MVP of Stage 1 of Delasport Balkan League.
In 9 out of 10 games
Harris
scored in double figures with his game high being 30 points in the defeat against Ibar in the first days of December 2020. Overall Harris did his best to lead TFT in those games and without doubt he was a key part of his team's qualifying to Stage 2.
Harris
' best game came against Beroe in TFT's win. He had a double-double with 25 points and 10 assists for an efficiency rating of 29. Against Ibar he had an efficiency of 30 but it wasn't enough to get a win.
Now
Harris
and TFT will turn their attention to the Second Stage of Delasport Balkan League. The team will be in group with Beroe and Hapoel GIlboa Galil and will be hoping to do enough in order to get to the Final Four of the competition.
News
Next Game
12 Mar 2021
20.00LIVE
Sport 5, YouTube
KK Kumanovo 2009
Hapoel Holon B.C.

| | |
| --- | --- |
| Sports Hall Pero Nakov | Referees: |
Schedule
Kumanovo | Sports Hall Pero Nakov

12 Mar 2021 20.00
KK Kumanovo 2009
LIVE
Hapoel Holon B.C.
Sport 5, YouTube

Gan Ner | Gan Ner

16 Mar 2021
Hapoel Gilboa Galil B.C.
LIVE
KK TFT
Sport 5, YouTube

Plovdiv | Complex Sila

17 Mar 2021
BC Akademik Plovdiv
LIVE
KK Kumanovo 2009
YouTube

Gan Ner | Gan Ner

18 Mar 2021
Hapoel Gilboa Galil B.C.
LIVE
BC Beroe
Sport 5, YouTube

Holon | Toto Arena

25 Mar 2021
Hapoel Holon B.C.
LIVE
BC Akademik Plovdiv
Sport 5, YouTube

Stara Zagora | Obshtinska

31 Mar 2021
BC Beroe
LIVE
KK TFT
YouTube
All times are local time