Two games rescheduled in Group G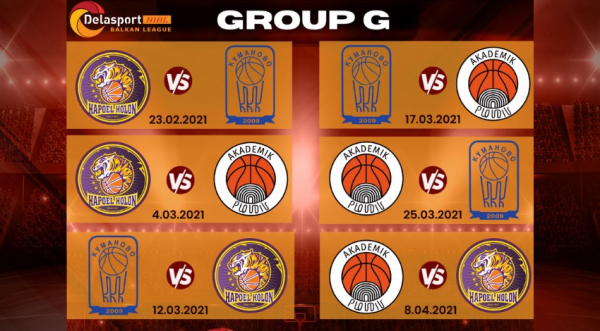 10-02-2021 | 17:13
A small change in the program of Group G in the Second stage of Delasport Balkan League has been made.
Instead of Hapoel Holon, on
25.03.2021 (THU) BC Akademik Plovdiv will host KK Kumanovo
. The match
between the Bulgarian and the Israeli team was rescheduled for 08.04.2021 (THU).
The six teams that qualified for the Second stage are drawn in two groups of three teams each. They'll play against each other twice on a home and away basis. The Balkan team ranked higher
in the First Stage, has the advantage of playing at home the second game against the other Balkan team in the group.
The teams placed first and second in both groups will qualify for the Final Four of the competition.
News
Next Game
12 Mar 2021
20.00LIVE
Sport 5, YouTube
KK Kumanovo 2009
Hapoel Holon B.C.

| | |
| --- | --- |
| Sports Hall Pero Nakov | Referees: |
Schedule
Kumanovo | Sports Hall Pero Nakov

12 Mar 2021 20.00
KK Kumanovo 2009
LIVE
Hapoel Holon B.C.
Sport 5, YouTube

Gan Ner | Gan Ner

16 Mar 2021
Hapoel Gilboa Galil B.C.
LIVE
KK TFT
Sport 5, YouTube

Plovdiv | Complex Sila

17 Mar 2021
BC Akademik Plovdiv
LIVE
KK Kumanovo 2009
YouTube

Gan Ner | Gan Ner

18 Mar 2021
Hapoel Gilboa Galil B.C.
LIVE
BC Beroe
Sport 5, YouTube

Holon | Toto Arena

25 Mar 2021
Hapoel Holon B.C.
LIVE
BC Akademik Plovdiv
Sport 5, YouTube

Stara Zagora | Obshtinska

31 Mar 2021
BC Beroe
LIVE
KK TFT
YouTube
All times are local time