Group F preview: KK TFT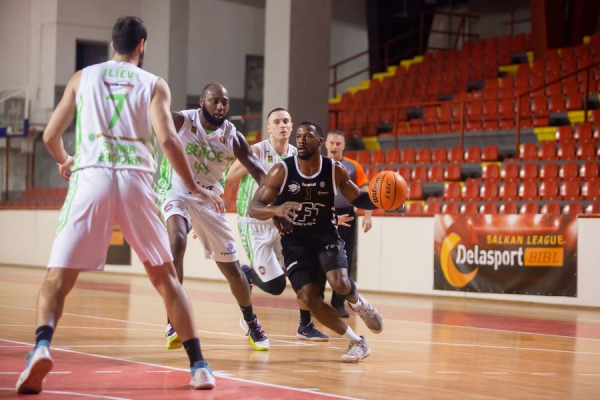 14-02-2021 | 16:41
The third team in Group F of Delasport Balkan League, along with Hapoel Gilboa Galil and BC Beroe, is the debutant
KK TFT
. The Skopje side managed to take the last place for Stage 2 coming from Group E and now will continue to enjoy its ride in the competition. The team will start with a home game against BC
Beroe
on February 24th which is of a big importance in the battle for the Final Four.
TFT
proved out to be a good home team having all four of its games in its gym. The only loss came in a heartbreaking overtime against BC Akademik Plovdiv so it's fair to be said that at home is where TFT's strength is. In order to have a chance for the Final Four, the team will have to improve its performances away and especially in the game in Stara Zagora which may prove to be decisive.
TFT waited for its last game to secure qualification for Stage 2 when it defeated Ibar at home. A more decisive game was the previous one as the 18-point win against Teodo turned out vital as the Skopje team took advantage in the head to head games against the Tivat squad having lost by 15 before that.
TFT is a team that relies a lot on its foreign players and of course they are led by the MVP of Stage 1 -
Tyron
Harris
. He is averaging 20.7 points and 7.9 assists in ten games and is a key reason for the team's success. He is however having a big help from Australian
Lachlan Anderson
who is a good scorer and is averaging 20.6 points. By adding to them
Landrius
Horton
who is having 12.4 points in 7 games,
Amir
Smith
with 9.3 poitns and 10.3 rebounds and we can see that those are the players moving TFT forward. We however can't underestimate the young local players like
Strahil
Nikolov
for example who is averaging 7.0 points and 3.1 rebounds.
Overall TFT has every right to be happy with its first season in the competition. Head coach
Boro Smilkovski
is however very ambitious and since the team reached to that stage, then it's only natural that they'll aim to go even higher. Whether that'll happen, we'll know at the end of March, but one thing is clear - TFT won't go out without a fight.
By clicking on the link below, you can check all the results and the schedule of KK TFT . You can also watch again the team's win over Teodo which turned out to be the key for reaching the next stage:
KK TFT RESULTS AND SCHEDULE FOR STAGE 2
News
Next Game
12 Mar 2021
20.00LIVE
Sport 5, YouTube
KK Kumanovo 2009
Hapoel Holon B.C.

| | |
| --- | --- |
| Sports Hall Pero Nakov | Referees: |
Schedule
Kumanovo | Sports Hall Pero Nakov

12 Mar 2021 20.00
KK Kumanovo 2009
LIVE
Hapoel Holon B.C.
Sport 5, YouTube

Gan Ner | Gan Ner

16 Mar 2021
Hapoel Gilboa Galil B.C.
LIVE
KK TFT
Sport 5, YouTube

Plovdiv | Complex Sila

17 Mar 2021
BC Akademik Plovdiv
LIVE
KK Kumanovo 2009
YouTube

Gan Ner | Gan Ner

18 Mar 2021
Hapoel Gilboa Galil B.C.
LIVE
BC Beroe
Sport 5, YouTube

Holon | Toto Arena

25 Mar 2021
Hapoel Holon B.C.
LIVE
BC Akademik Plovdiv
Sport 5, YouTube

Stara Zagora | Obshtinska

31 Mar 2021
BC Beroe
LIVE
KK TFT
YouTube
All times are local time