Stanislav Vaklinov is the player with most games in BIBL history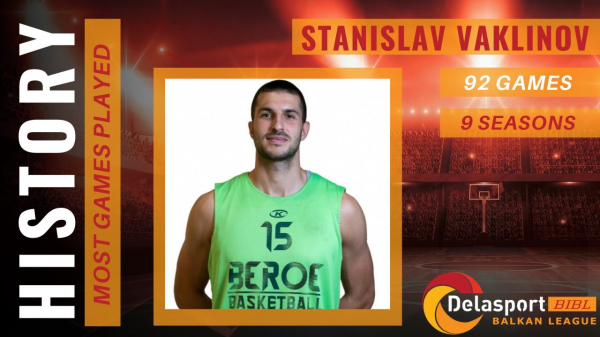 20-02-2021 | 16:12
The center of BC Beroe and Bulgarian National team -
Stanislav Vaklinov
, is the player with most games in the history of Delasport Balkan League. The current is his 9th season in the competition during which he took part in total of 92 games. If he is to play until the of the campaign he will make them a total of 98.
Vaklinov
will always remain in the history of BIBL having been a part of the first ever champion. He made his debut in the competition's inaugural season with Rilski Sportist and lifted the trophy in 2009 at the Final Four in Samokov. Vaklinov has also played for Akademik Plovdiv and Beroe in the league.
In the current season Vaklinov has taken a part in six games and is averaging 6.3 points and 6.2 rebounds His team is in a group with Hapoel Gilboa Galil and KK TFT and will look to finish in one of the first two positions in order to qualify for the Final Four.
News
Next Game
12 Mar 2021
20.00LIVE
Sport 5, YouTube
KK Kumanovo 2009
Hapoel Holon B.C.

| | |
| --- | --- |
| Sports Hall Pero Nakov | Referees: |
Schedule
Kumanovo | Sports Hall Pero Nakov

12 Mar 2021 20.00
KK Kumanovo 2009
LIVE
Hapoel Holon B.C.
Sport 5, YouTube

Gan Ner | Gan Ner

16 Mar 2021
Hapoel Gilboa Galil B.C.
LIVE
KK TFT
Sport 5, YouTube

Plovdiv | Complex Sila

17 Mar 2021
BC Akademik Plovdiv
LIVE
KK Kumanovo 2009
YouTube

Gan Ner | Gan Ner

18 Mar 2021
Hapoel Gilboa Galil B.C.
LIVE
BC Beroe
Sport 5, YouTube

Holon | Toto Arena

25 Mar 2021
Hapoel Holon B.C.
LIVE
BC Akademik Plovdiv
Sport 5, YouTube

Stara Zagora | Obshtinska

31 Mar 2021
BC Beroe
LIVE
KK TFT
YouTube
All times are local time