Delasport BIBL congratulates Bulgaria for Eurobasket qualification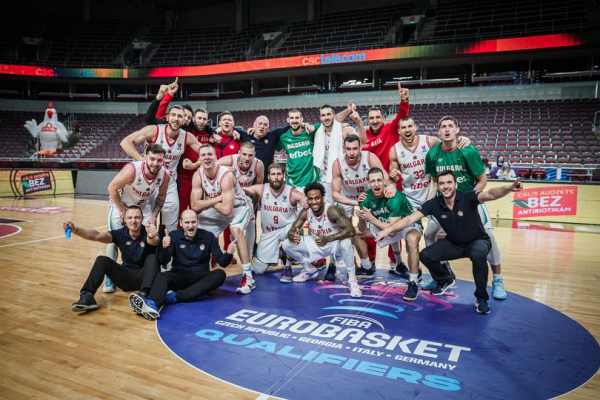 21-02-2021 | 16:48
The management of Delasport Balkan League would like to congratulate Bulgaria with the qualification for Eurobasket 2022. The national team defeated Latvia by a single point to clinch its place in the competition next year.
A special congratulation goes also to the head coach
Rosen Barchovski
who has history in BIBL by leading Rilski Sportist. He is one time finalist in 2011 and a bronze medal winner in 2013. Some of the players part of the team have their history in the Balkan League as well and others are playing in it at the moment. Stanislav Vaklinov and Nikolay Stoyanov from Beroe and Vasil Bachev from Akademik Plovdiv are those playing currently in the league. Others like Hristo Zahariev, Aleks Simeonov and Deyan Karamfilov have played before with some of them making their first steps in the international basketball by being part of the Balkan League.
Without doubt that success will contribute even more to the popularity of the game in the country and hopefully that will lead to better chances and possibilities also to the teams playing in the Delasport Balkan League.
Congratulations again to everybody! Enjoy your success!
News
Next Game
12 Mar 2021
20.00LIVE
Sport 5, YouTube
KK Kumanovo 2009
Hapoel Holon B.C.

| | |
| --- | --- |
| Sports Hall Pero Nakov | Referees: |
Schedule
Kumanovo | Sports Hall Pero Nakov

12 Mar 2021 20.00
KK Kumanovo 2009
LIVE
Hapoel Holon B.C.
Sport 5, YouTube

Gan Ner | Gan Ner

16 Mar 2021
Hapoel Gilboa Galil B.C.
LIVE
KK TFT
Sport 5, YouTube

Plovdiv | Complex Sila

17 Mar 2021
BC Akademik Plovdiv
LIVE
KK Kumanovo 2009
YouTube

Gan Ner | Gan Ner

18 Mar 2021
Hapoel Gilboa Galil B.C.
LIVE
BC Beroe
Sport 5, YouTube

Holon | Toto Arena

25 Mar 2021
Hapoel Holon B.C.
LIVE
BC Akademik Plovdiv
Sport 5, YouTube

Stara Zagora | Obshtinska

31 Mar 2021
BC Beroe
LIVE
KK TFT
YouTube
All times are local time