The Delasport Balkan League MVP of the season is...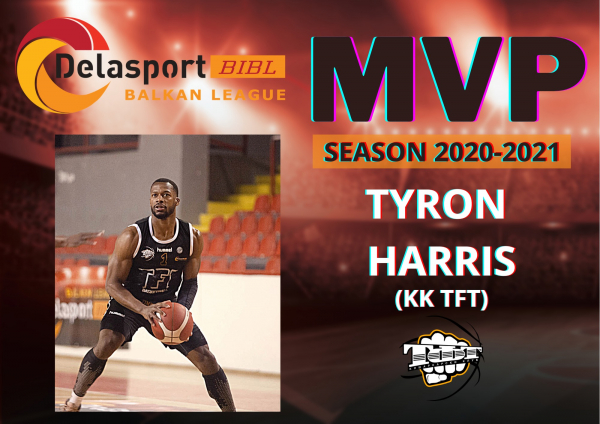 16-04-2021 | 17:50
The Most Valuable Player of season 2020/2021 in Delasport Balkan League is
Tyron Harris
. The American point guard of KK TFT was in a constantly good form throughout the first two stages of the competition and is deservedly winning this award.
Harris
played in all of his team's 14 games and averaged 18.6 points, 7.5 assists and 3.8 rebounds. He achieved an efficiency rating of 20.3 which is a testament for his good form since Day 1 of the season. Harris was also the MVP of the month of November and was the key for TFT reaching Stage 2 of the competition.
Harris
' best scoring game came on December 2nd when he scored 30 points against Ibar. As far as the efficiency rating goes, he had an index of 34 against Akademik Plovdiv on December 17th. The American was the main offensive weapon of TFT and the team's performance relied a lot on his play. The American had his highest assist game against Beroe on November 19th and also had 7 steals against Akademik Plovdiv on December 10th.
Overall
Harris
put up a very good season 2020/2021 in Delasport Balkan League and he had a lot of eyes on him. In every game that TFT played, it was obvious that the main task of the opponents was first to stop him. The American was also up to the task which is also visible from his efficiency rating and from the stat lines from the games he played.
At the end of the day, KK TFT didn't qualify for the Final 4 although the team was very close to BC Beroe in the two games they played in Stage 2. Nevertheless it was a debuting season to remember for the North Macedonian side and for its best player which was without doubt
Harris
. He will also remember his first participation in Delasport Balkan League as being chosen for the MVP of the competition for season 2020/2021.
News
Next Game
No Games Scheduled