Yordan Yankov: We need to play as a team and be aggressive in order to reach the final we dream of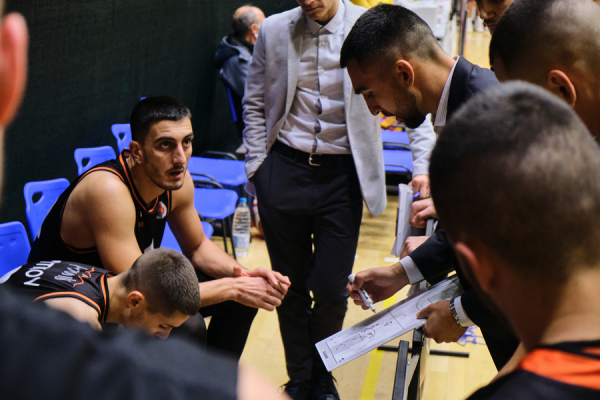 25-04-2021 | 13:07
In his first season as a head coach,
Yordan Yankov
managed to lead his
Akademik Plovdiv
to the Final 4 of Delasport Balkan League. The Bulgarian team was the best in Group E of Stage 1 and then performed well also in the Second Stage to advance to the Finals. In the first semifinal on Tuesday in Holon, Akademik will play BC Beroe in all Bulgarian clash, so few days before the game, here is what
Yankov
had to say:
- In your first season as a head coach, you've reached the Final 4 of BIBL. How do you rate your team's performance so far and what does it mean for you to advance to the F4?
- I think that the first place in Stage 1 is a great achievement for us as organization. We had a very good regular season in which we finished first and then we were convincing in both games against Kumanovo in Stage 2 and even in the first one against Hapoel Holon. We deserved to be in the Final 4 and I'm proud with my players and colleagues in the team. I hope that we'll be healthy in Israel and I think that the Final 4 is a very good advertisement for our organization and the people who work for Akademik Plovdiv. This is a positive end for us of the BIBL season.
- How is your team feeling before the F4 and what kind of performance will you need in order to have success in the Finals?
- We are all very motivated and ready to face Beroe in the semifinal. We need to focus on our performance and our play. If we play as a team and if we play aggressively, I think that we can reach the final we dream of.
- You've beaten Beroe 5 times so far this season. Does that count going in to the semifinal and what will be the key for that game?
- Those wins are left in the past. We are not thinking and we are not talking about them. The same is valid also for the injury problems in Beroe. Every team has its problems and we'll try to overcome our in order to bring joy to the fans in Plovdiv by qualifying for a historical final.
News
Next Game
No Games Scheduled